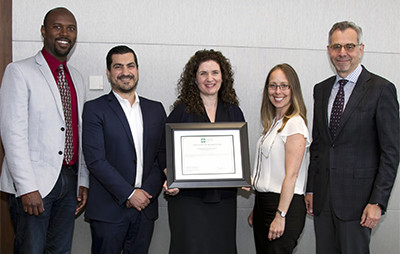 We are pleased to announce that Morrison Hershfield's Quality Assurance Program (MHQAP) personnel certification body is now ISO 17024:2012 certified.
Building on Morrison Hershfield's existing quality management system ISO 9001:2008 certification, Morrison Hershfield received accreditation by the International Accreditation Service (IAS) under ISO 17024:2012.
Morrison Hershfield is one of only three spray polyurethane foam (SPF) installer certification bodies in Canada to be accredited under ISO 17024. To achieve this accreditation, the MHQAP team underwent a rigorous internal and external evaluation process.
The installer certification program ensures installers are properly trained, tested and evaluated. MHQAP is grateful to its partners for their support and collaboration in ensuring consumer confidence through quality based approaches.
"I am very proud of this achievement and the hard work of our team," Program Manager Dave André said. "This ISO accreditation is a significant milestone in the program and provides benefits to all our stakeholders including SPF manufacturers, contractors and installers. MHQAP is helping lead the way in the industry through this best practices approach. The SPF installer certification process is now more reliable, fair and consistent across the board."
Under the International Organization for Standardization's (ISO) standard 17024 for personnel certification programs, it "provides a global benchmark for personnel certification programs to ensure that they operate in a consistent, comparable and reliable manner worldwide, thereby allowing individuals to have skills that translate across national lines."
Achieving ISO accreditation acknowledges the quality and integrity of MHQAP's personnel certification program. The MHQAP is now positioned to:
Demonstrate conformance to a global, industry-recognized benchmark;
Ensure our credentials are consistent, comparable and reliable between existing certification bodies; and
Promote to all stakeholders in construction projects that our certified installers have the necessary knowledge, skills and abilities to perform their work.
For more information, please visit MHQAP.com.