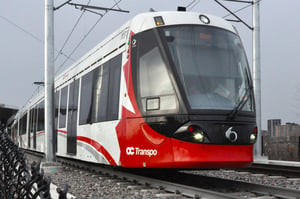 The Ottawa Confederation Line LRT (Stage 1) won a 2020 Engineering Excellence Diamond Award from the American Council of Engineering Companies (ACEC) New York. The project will also represent the ACEC of New York in the upcoming national competition sponsored by ACEC.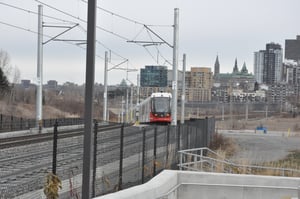 Each year, projects are judged by a panel of industry experts and selected based on their complexity, innovation and value to society. The awards will be presented at a gala in New York City on April 4, 2020.
Morrison Hershfield played a leading role in the Preliminary Design and Project Management JV team (Owner's Technical Advisors) that prepared the Preliminary Engineering Design and Project Specific Output Specifications (PSOS) for this transformative public transit project. The project is supported by the federal, provincial and municipal governments, and was carried out under a P3 Design-Build-Finance-Maintain project delivery model.
The Project: Confederation Line Light Rail Transit (Stage 1)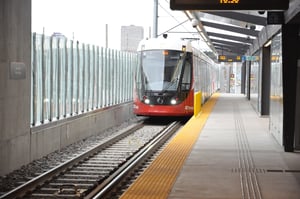 As part of an ambitious plan to develop a world-class transportation system and help spur economic growth, the City of Ottawa constructed a new 12.5 km light rail transit network across the city. It includes a 2.5 km tunnel under the downtown core and the conversion of the exclusive bus transitway to Blair Road in the East and Tunney's Pasture in the West. This is the first such conversion of a fully segregated bus transitway to an LRT system ever undertaken in North America.
The project includes 13 stations, two of which are in the tunnel portion, one in the cut and cover portion and the remaining 10 stations at-grade within the existing transitway, and the construction of a state-of-the-art of a maintenance and storage facility (MSF), the 'Belfast Yard', to accommodate the fleet of new LRT vehicles.
This MSF will serve a number of critical functions, including: fleet maintenance, storage and dispatch; parts warehousing; maintenance of way headquarters; administration headquarters; and, emergency transit systems control center.
Morrison Hershfield Role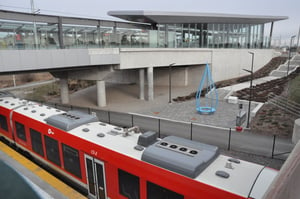 The Capital Transit Partners joint venture, including STV, AECOM, McMillen Jacobs Associates and Morrison Hershfield, played a critical role in the Confederation Line's design and construction by performing program management, preliminary engineering, scheduling and construction staging support services, and developing performance-based specifications.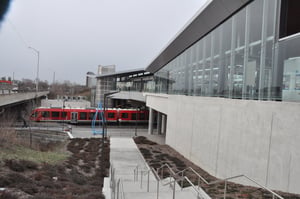 Morrison Hershfield provided services in a number of critical project fields:
Project control services.
Utilities investigations, mapping and conflict identification.
Property requirements identification.
Environmental investigations, reporting and approvals.
Storm water management and drainage studies.
Code and life safety consulting.
LEED® and sustainability consulting.
Traffic/transit studies for construction staging and permanent condition.
Preliminary design, roadway design, utility investigations, stormwater management and PSOS preparation for civil (grading, drainage and municipal services for: running way, stations and MSF), roadways, structural (bridges, culverts and retaining walls), mechanical for tunnel (tunnel pumping/drainage system); electrical/ mechanical building systems.
Procurement support, including RFQ/RFP preparation, RFI responses, addenda preparation, attendance at and evaluation of proponent design presentation meetings; bid compliance reviews and award recommendations.
Value engineering and peer review sessions with design team.
Converted Light Rail Line Open!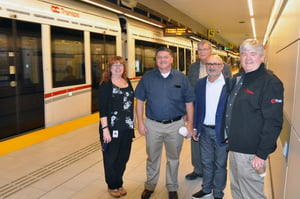 Of note, the existing BRT service remained operational and fully functional during the construction of the light rail network. "Providing reliable BRT transit service while converting the bus transitway to light rail transit was a key element of the contract requirements uniquely developed by the Capital Transit Partners. This approach proved successful through project delivery," said Stan McGillis, vice president, transportation, at Morrison Hershfield.
"The collaborative efforts and innovative thinking from the four Capital Transit Partner firms were instrumental in overcoming the challenges faced on this vital mobility project," said Andrew Philip, AECOM vice president of P3 Advisory Services.
Ottawa's new Confederation Line opened to users in September 2019. It is an integral part of a world-class mass transit system that will serve the city well into the future. It was designed and built to better integrate with Ottawa's bicycle infrastructure network and stands to improve the environment by reducing traffic congestion and the associated GHGs, and through running zero emission electric trains.
Capital Transit Partners JV was retained for the Stage-2 LRT extension to the Confederation Line, now underway.