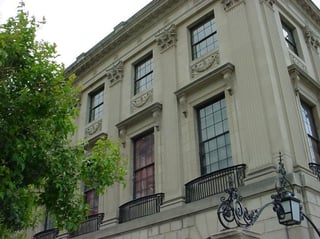 100 Wellington Street was constructed in Ottawa, Ontario, Canada circa 1931 as the United States Embassy, and was occupied until 1997 when ownership was transferred to the Canadian Government. The Canadian Government was looking to repurpose this heritage-designated building to public "art gallery" quality space, capitalizing on its prominent location on the Ceremonial Route across from Parliament Hill.
With the proposed change to Gallery Space, the interior operating conditions were to be changed to add winter humidification, with museum quality controls on temperature and relative humidity variations. The heritage-designated windows, which consist of single glazed non-thermally broken bronze frames, needed to be assessed and potentially upgraded to tolerate the proposed interior operating conditions during winter design conditions in a cold weather climate. The challenge was to upgrade the air-tightness and thermal properties of the windows without negatively impacting on the heritage character of the building.
This paper will discuss how hygrothermal field monitoring and analysis was used to evaluate and quantify the performance of the original heritage windows and building envelope in relation to the proposed interior operating conditions. It will describe the window rehabilitation approach that was developed. The paper will also demonstrate the validity of the design concept through the construction and monitoring of a full scale in-situ mock-up. This paper presents the hygrothermal monitoring results of the window mock-up and discusses the strategies and concepts for dealing with similar heritage window upgrades in a cold weather climate.