Morrison Hershfield Wins 2016 CEO Award of Excellence for Robinson Place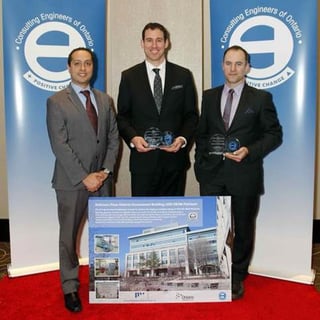 On Saturday, April 16th, 2016 Consulting Engineers of Ontario (CEO) presented Morrison Hershfield with an Award of Excellence for Robinson Place Ontario Government Building. The CEO Awards are given to firms whose projects have contributed to improving Ontario's social, economic and environmental well-being. Robinson Place was the first government building in Canada to achieve LEED® EB:O&M Platinum (LEED EBOM).
Morrison Hershfield's Jeremy Carkner (middle) was on hand to receive the award. He is pictured above with Tony Fanous (left), Manager, Technical Services at Infrastructure Ontario and Howlan Mullally (right), Acting Director, Central Operations at Infrastructure Ontario.
Morrison Hershfield was the prime consultant on this project, responsible for LEED/sustainability consulting, mechanical and electrical engineering and commissioning of the building's related systems and controls. Upgrades to Robinson Place resulted in an ENERGY STAR score of 89, meaning it performs better than 89% of its peer buildings nationwide. Automation and ventilation systems were upgraded with real time monitoring for energy efficiency and occupant comfort. New energy-efficient chillers were installed and air quality was improved. Captured rainwater is used by the building, which also features a community garden on site and numerous sustainable building management policies.
As noted by the Canadian Green Building Council (CaGBC), "...the LEED Canada EB:O&M rating system helps building owners and operators measure operations, improvements and maintenance on a consistent scale, with the goal of maximizing operational efficiency while minimizing environmental impacts. LEED EBOM focuses on the operation and maintenance phase of the building lifecycle rather than the construction phase."
Infrastructure Ontario (IO) has once again shown its sustainability leadership with this project. Robinson Place is the first LEED EBOM facility for IO, and having achieved the highest rating possible at Platinum, it will serve as an ongoing model for future projects. Morrison Hershfield is delighted that IO trusted us with this challenge and particularly proud that we were able to help them achieve this ambitious goal.
For more information on this industry leading project, read "Taking the LEED: Robinson Place gets certified" in CEO's Accolades Magazine.
Please visit CEO's website for more on the 2016 Ontario Consulting Engineering Awards.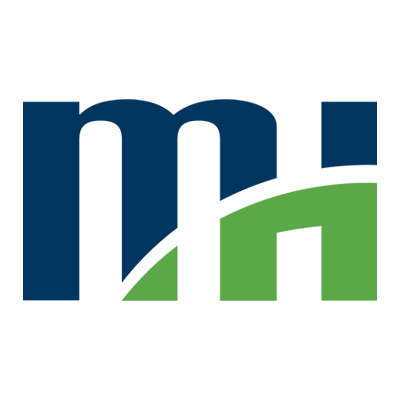 Morrison Hershfield is a market leading, employee-owned engineering firm that has been making a difference for more than 75 years. Our exceptional technical experts, thought leaders and high-performing employees deliver innovative, cost effective and technically sophisticated infrastructure solutions across the globe. Our highly focused approach to the clients and markets we serve ensures that we deliver the value our clients demand.