Catherine Karakatsanis, New FIDIC President
Congratulations Catherine!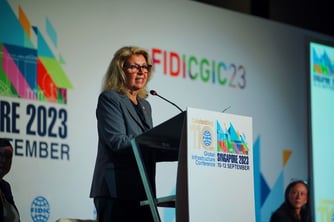 Catherine Karakatsanis, P.Eng., Morrison Hershfield's Chief Operating Officer, is the new president of the International Federation of Consulting Engineers (FIDIC). Morrison Hershfield is proud of this tremendous achievement, and we support Catherine as she takes on this important new role. With her commitment to excellence and dedication to advancing the industry, we are confident that Catherine will lead FIDIC with the utmost integrity and grace.
FIDIC is the global advocacy body for national associations of consulting engineers and represents business and commercial interests of over 40,000 firms in more than 100 countries worldwide. Catherine joined FIDIC's Board in 2020, was elected Vice President in 2021 and as President, looks forward to working in partnership with member associations to advance FIDIC's important work. Catherine believes FIDIC plays an important role in providing a global perspective that can facilitate collective action to advance the engineering profession and deal with the prevailing issues facing our planet.
"The world is facing pressing challenges on many fronts, including climate change, clean water, clean and affordable energy, good health and infrastructure needs, all amid wide disparities in standard of living. We are in the enviable position that the public, otherwise worried about the future, can trust us as professionals who put public welfare above all else." --- Catherine Karakatsanis , September 10, 2023
Impactful Leader
Catherine's FIDIC tenure continues her impressive, more than three-decade long career of industry involvement and volunteer work. She has held professional regulatory and advocacy body leadership roles with FIDIC, Engineers Canada, Professional Engineers Ontario and Ontario Society of Professional Engineers. She has served on numerous Boards and Foundations, including Engineers Without Borders Canada, Canadian Engineering Memorial Foundation, Hellenic Heritage Foundation and for Hydro One Inc. A proud Western University alumnus, Catherine has served on the University's Board of Governors, Engineering Advisory Council, Outreach and Student Programs.
Respected Chief Operating Officer at Morrison Hershfield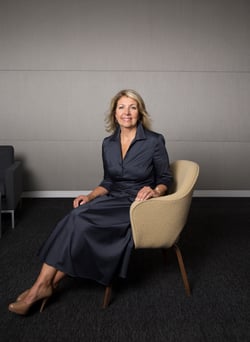 Catherine's professional career at Morrison Hershfield began over three decades ago as a structural engineer. She was elected to the firm's Board of Directors in 2005 and her contributions over the years are immeasurable.
Catherine successfully advanced through a series of technical, management and leadership positions with Morrison Hershfield. She became Chief Operating Officer in 2012 and continues in this role today. She is responsible for the technical and operational delivery of the firm's projects and provides day-to-day leadership, strategy and management for over 1,000 personnel. Her management team includes four Senior Vice Presidents who represent the firm's four business units that provide engineering services for vertical and horizontal infrastructure. She is a valued leader who "… brings insights to our management team in an articulate way that always leads us to better solutions. Her experience clearly comes through in her insightful contributions."
Valued Mentor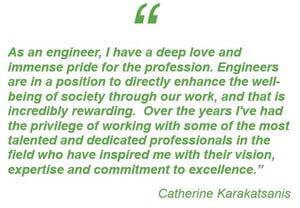 Catherine is an inspirational leader and mentor to those she works with. She has made a conscientious commitment to exemplifying and encouraging outstanding leadership within Morrison Hershfield and the industry. In the words of one colleague, "Every conversation one has with Catherine makes you feel appreciated, respected, and valued. She leads by making you more confident in your abilities and inspires you to be better."
She has been instrumental in driving our business and the industry forward. Her fingerprint can be found in Morrison Hershfield's high-performing professional work ethic, our collaborative and collegial environment and unique culture.
Champion of Gender Equity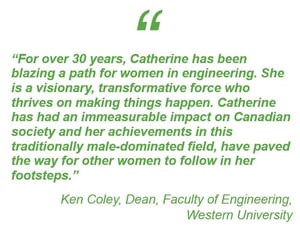 Catherine's goal of ensuring the succession and diversity of the profession is clear. While she has been a role model to all staff and her peers, she has consistently used her influence to create an environment to promote and mentor other talented women. She is a devoted advocate for creating a more diverse profession and has been a champion of women's issues. At Morrison Hershfield, she promoted policies that improved working conditions and opportunities for female professionals. Her leadership, advocacy and contributions to mentoring and influencing young people, especially women to pursue STEM careers and specifically engineering as a profession, are significant. Using her own personal experiences as motivation, she continues to break down barriers and educate business leaders in management positions on the issues women face and the benefits of a more balanced workplace.
Industry Awards and Recognition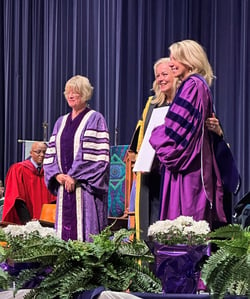 Catherine is a dedicated professional whose sense of service is underscored by her contribution of significant time and energy to not only our firm, but organizations that promote the value of engineering knowledge,
respect, gender equity and education.
Catherine has consistently been recognized for her contributions to Morrison Hershfield, the engineering profession and her community. She received Canada's highest engineering distinction for an individual's achievement in their chosen field – the Gold Medal from Engineers Canada and was awarded Professional Engineers Ontario's highest engineering distinctions –
the Gold Medal and the rank of Companion. She was inducted into the Canadian Academy of Engineering as a Fellow, and into Canada's Top 100 Most Powerful Women Hall of Fame. She also received the Governor General of Canada Sovereign's Medal for Volunteers. Earlier this year, Catherine was honoured with one of Canadian Consulting Engineering Magazine's first Lifetime Achievement Awards, and an Honorary Doctorate from Western University.
The Path Forward
Morrison Hershfield is proud of our 77 years of success as a highly-regarded, employee-owned, professional engineering and management firm. As we strive to fulfil our 2025 Ambition Strategic Plan and maintain our steady growth in the marketplace, we will continue to rely on Catherine's leadership.
"Qualities Catherine brings to her role as Chief Operating Officer are her commitment, her dedication, her support of her team, and her exceptional collaborative qualities." Morrison Hershfield is confident that these qualities will prove beneficial to FIDIC and the world-wide engineering industry during her tenure as FIDIC President.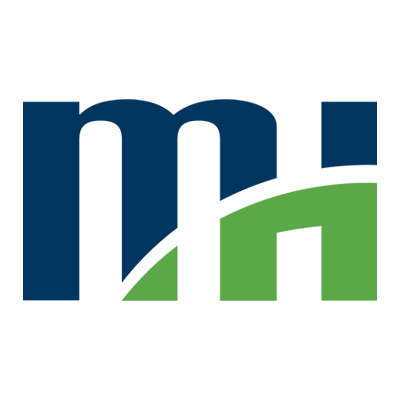 Morrison Hershfield is a market leading, employee-owned professional engineering and management firm that has been making a difference since 1946. We deliver technically sophisticated, cost effective and sustainable infrastructure solutions across the globe.