OPEA Gold Medal Celebrates Contributions and Leadership of Catherine Karakatsanis
On Saturday, November 18, 2017, Catherine Karakatsanis, P.Eng. was presented with the Ontario Professional Engineers Awards' prestigious Gold Medal. The premier award of the Professional Engineers Ontario (PEO), the Gold Medal is given to only one exceptional candidate each year who has made a "conscientious commitment to public service, technical excellence and outstanding professional leadership." Catherine is undoubtedly one of these people.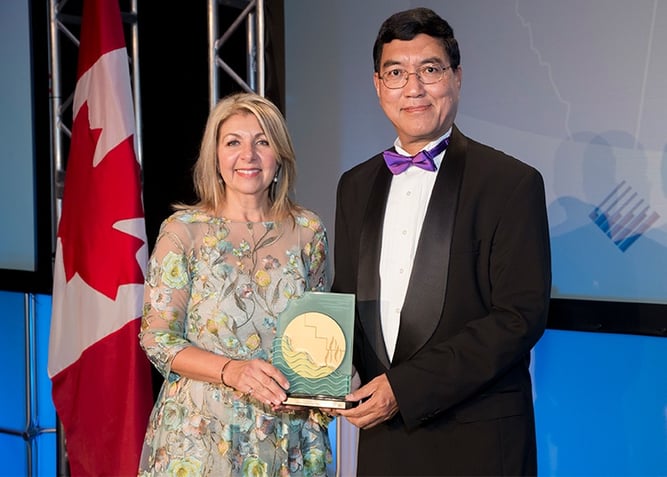 Catherine Karakatsanis accepts the Ontario Professional Engineers Awards' prestigious Gold Medal from Amit Chakma, President, Western University.
"Catherine's unwavering commitment and her tireless efforts have benefitted and enriched the engineering profession in Ontario, and across Canada," says Chris D. Roney, P.Eng., Past-President, Engineers Canada. "The entire profession owes her a huge debt of gratitude for her incredible work in its service."
Natural Leader
Catherine has over 20 years of experience in the engineering profession. She is a natural leader in both business and volunteer governance, and is a role model and mentor to colleagues and young people, especially women, who choose engineering as a profession.
Industry peers hold Catherine in very high regard. "Catherine exhibits the finest characteristics of leadership with integrity, openness, clarity of thought and communication, and a selfless dedication to help others especially our future engineers through mentorship and guidance," says Andrew N. Hrymak, Ph.D., P.Eng., Dean, Faculty of Engineering, Western University. "I have rarely come across someone who is so accomplished across all three areas of work, profession and community. Her career exemplifies the best in our profession and she is a true role model for the young engineers of the future."
Jeanette M. Southwood, Vice President, Strategy and Partnerships, Engineers Canada, agrees that "Catherine's leadership, vision and dedication are nothing short of exemplary."
Professional Career
Catherine obtained a Bachelors and a Masters degree in Engineering Science from Western University. She joined Morrison Hershfield as a structural engineer, and has had a diversified career with extensive technical and management experience.
Catherine has contributed significantly to engineering excellence in area of planning, design and engineering management and been involved with numerous high profile projects across Canada, the United States and abroad.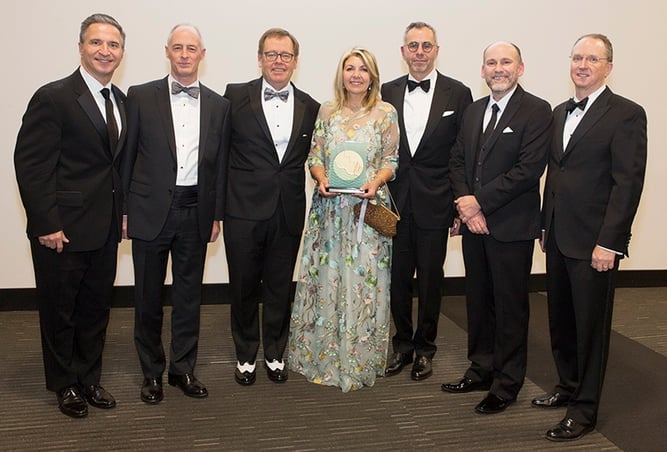 Catherine Karakatsanis celebrated her Gold Medal with Morrison Hershfield colleagues (left to right) Loui Pappas, Pelly Shafto, Jon McCarthy, Anthony Karakatsanis, Kevin Chouinard, and Rob Selby.
Catherine was promoted to her first executive position after ten years with Morrison Hershfield and elected to the board by the shareholders for the first time in 2005. Both of these positions were a first for a woman in the firm's history. Since then, she has been nominated and elected to the board by the over 250 shareholders each and every consecutive year for the last 12 years. This is a testament to the value of her technical and business contributions to the firm and the confidence the shareholders have in her leadership.
Now, as the company's Chief Operating Officer, Catherine is responsible for all aspects of the company operations in Canada, the United States and internationally. She leads a multidisciplinary team of nearly 1,000 professionals.
Champion of Diversity
Throughout her career, Catherine has been a devoted advocate for creating a more diverse profession. In particular, she has been a champion of women's issues. At Morrison Hershfield, she has encouraged policies that have improved the working conditions and opportunities for female professionals.
"Catherine has done a wonderful job of utilizing her role as COO to create a very positive role model for the other talented women in our firm and in the engineering community," says Jon McCarthy, P.E., Senior Vice President, Morrison Hershfield. "She has done this through personal commitment of time and effort and most importantly by her performance and manner in which she does her job day in and day out. But it is not only women who are inspired by her as a leader, I can attest that all of our staff hold Catherine in the highest esteem and respect."
In Good Company
PEO began formally recognizing the outstanding contributions of professional engineers to their profession and their community in 1947. It is worth noting that Catherine is the third Morrison Hershfield employee to be honored with the esteemed Gold Medal, succeeding company founder Carson Morrison (1974) and former President Art Johns (2002).
Candidates for the Gold Medal are evaluated on three primary criteria: work-related achievements, service to the profession and service to society and the community. Some of Catherine's contributions noted below.
Service to the Profession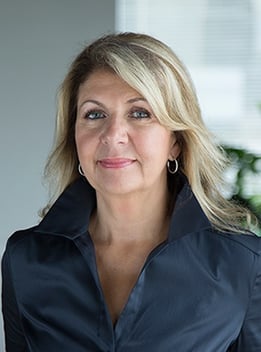 Catherine has served on many industry committees and task forces. She is the only engineer in Canada to have led their provincial regulator (Professional Engineers Ontario), provincial advocacy body (Ontario Society of Professional Engineers) and national organization (Engineers Canada). Her service includes:
Various PEO committees and task forces (since 1994).
Chair, Engineers Canada Government Relations Committee (2011-12).
Chair, Engineers Canada Governance Committee.
President, Engineers Canada (2012).
Service to Society and the Community
Western University:

Director, Western University Board of Governors (2016 – present).
Chair of Western Engineering Advisory Council (2012 – present).
Western Engineering Careers Event Speaker (2013).
Outreach and Student Programs Women in Engineering Guest Speaker, Lynda Shaw Memorial Lecturer (2010).
Go ENG Girl inaugural keynote speaker (2005).

Director, Hellenic Heritage Foundation.
Vice Chair and member of Engineers Without Borders.
Past Chair, United Way Campaign.
Board of Directors of Hydro One (2014-15).
Past Director, Canadian Engineering Memorial Foundation.
Industry Recognition
Catherine's contributions to the profession have been recognized by many organizations and awards. Notable achievements include:
Inducted as a Companion of the Order of Honour by PEO, the Order's highest distinction (2017).
Inducted into the Women's Executive Network (WXN) Top 100 Most Powerful Women Hall of Fame (2016) after being named one of the powerful women in Canada for a fourth consecutive year, in four different categories.
Ontario Women's Directorate Award 'Leading Women Building Communities Award' (2013), for her dedication to supporting women in the workplace.
Ontario Professional Engineers Awards (OPEA) Engineering Medal (2012) for her engineering management expertise.
Inducted into the Canadian Academy of Engineering as a Fellow (2011) recognizing her cumulative contributions to engineering, management and the community.
Province of Ontario Volunteer 20 Year Service Award (2011).
L.S. Lauchland Engineering Alumni Medal (2008), recognizing Western Engineering's most successful alumni.
Morrison Hershfield 'Community or Environmental Leadership' Carson Award (2009).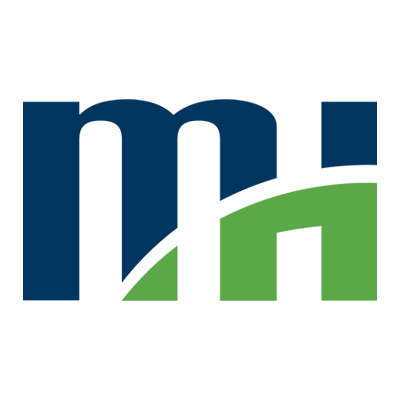 Morrison Hershfield is a market leading, employee-owned engineering firm that has been making a difference for more than 75 years. Our exceptional technical experts, thought leaders and high-performing employees deliver innovative, cost effective and technically sophisticated infrastructure solutions across the globe. Our highly focused approach to the clients and markets we serve ensures that we deliver the value our clients demand.