2022 CCE Award of Excellence Winners!
United Boulevard Recycling and Waste Centre and Wii Gyemsiga Siwilaawksat Student Building at Coast Mountain College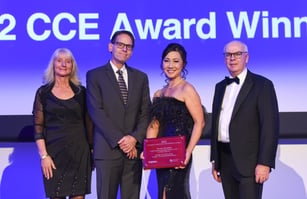 Morrison Hershfield was honored with two Awards of Excellence at the 2022 Canadian Consulting Engineering (CCE) Awards gala. The United Boule
vard Recycling & Waste Facility in Vancouver, BC
was recognized in the Environmental Remediation category and the Wii Gyemsiga Siwilaawksat Student Building at Coast Mountain College in Terrace, BC in the Buildings category. Congratulations to our amazing teams, clients and partners, and to all of the evening's nominees. It has been a pleasure to work with such forward-thinking and ambitious teams
.
T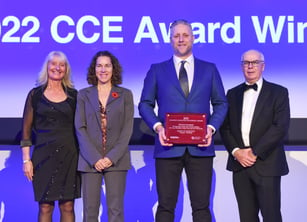 he CCE Awards celebrate incredible engineering projects carried out by Canadian engineering firms. They are the highest form of national recognition for excellence in the industry. President and CEO of ACEC, John Gamble, commented that "By pushing boundaries and delivering ground-breaking solutions to the problems we face, these consulting engineering firms are paving the way forward in the field of engineering. Consulting engineers have the remarkable opportunity and responsibility of shaping Canada's future. Their work greatly contributes to a growing economy and thriving neighbourhoods in every corner of this country…" We could not agree more!
United Boulevard Recycling and Waste Centre, Vancouver, BC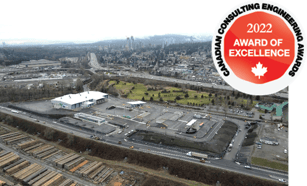 The new United Boulevard Recycling and Waste Centre opened to the public in March 2022. This full-service waste and recycling facility has a processing capacity of about 600 tonnes per day, will be open 363 days a year and serves about 200,000 customers in Metro Vancouver.
The facility sits on 6.2 hectares of brownfield on the former Coquitlam Landfill. Morrison Hershfield's project team implemented innovative and sustainable engineering solutions, overcoming unique geotechnical, structural and environmental challenges and allowing for the safe and reliable development of this large centre on a closed landfill site. This facility has a vital role in Metro Vancouver's efforts to reduce waste, meet ambitious regional recycling goals and move the city to a circular economy.
The creation of a community amenity for free recycling that also demonstrated circularity in construction through the reuse of waste as a resource, made it a showcase project in the eyes of the jury.
"Working with Metro Vancouver to complete this project was a tremendous opportunity to transform an underutilized brownfield site into a state-of-the-art recycling and waste centre and directly support the region's climate and environmental goals. We are honored to be recognized with an Award of Excellence and share it with all our project partners." - Don McCallum, P.Eng., Vice President, Environment.
For more on this project, please visit:
Wii Gyemsiga Siwilaaksat Student Building at Coast Mountain College, Terrace, BC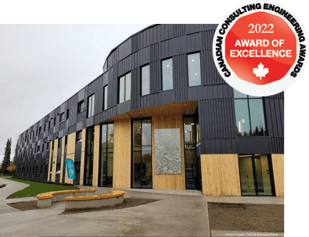 The Wii Gyemsiga Siwilaawksat Student Building at Coast Mountain College in Terrace, BC integrates light wood framed modular housing units with a site-built, mass timber central atrium. The new culturally supportive building exceeds goals for durability and energy efficiency. Morrison Hershfield's holistic approach to building envelope, energy modeling and whole building airtightness testing resulted in a high-performing building that exceeds the minimum threshold of the BC Energy Step Code Level 4 energy requirements in a Northern coastal climate and contributes significantly to the residence being net-zero ready.
The jurors were impressed with the time invested on low air leakage, thermal breaks, and the mass timber structurally integrated panels, as well as the cultural reflection in the project's design.
"Having a role in creating this beautiful, durable, energy efficient and culturally supportive space for Coast Mountain College students was our privilege. To win an Award of Excellence is a special honour that we share with the College and the entire project team." - Anthony Karakatsanis, P.Eng., President & Chief Executive Officer.
For more on this project, please visit:
#20DaysofExcellence Campaign
Each year, ACEC showcases the 20 incredible engineering projects that were honoured at the Canadian Consulting Engineering Awards. Be sure to follow the #20DaysofExcellence campaign on ACEC's Twitter and LinkedIn channels. The Wii Gyemsiga Siwilaawksat Student Building at Coast Mountain College will be featured on November 9th and United Boulevard Recycling and Waste Facility on November 21st.
By
Morrison Hershfield
|
November 8, 2022
|
Building Science , Awards , Sustainability , Building Envelope , Vancouver , Building Energy , ACEC , Construction , solid waste management , municipal solid waste
|
0 Comments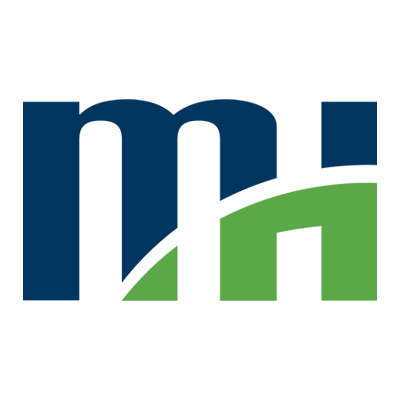 Morrison Hershfield is a market leading, employee-owned engineering firm that has been making a difference for more than 75 years. Our exceptional technical experts, thought leaders and high-performing employees deliver innovative, cost effective and technically sophisticated infrastructure solutions across the globe. Our highly focused approach to the clients and markets we serve ensures that we deliver the value our clients demand.