Building NX Wins Award of Excellence and Tree For Life Award at CCE Awards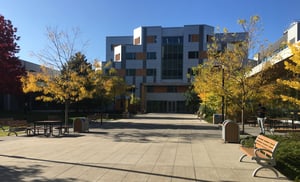 The annual Canadian Consulting Engineering Awards, co-sponsored by Canadian Consulting Engineer (CCE) Magazine and ACEC-Canada, was a virtual celebration this year! The event showcased projects submitted from across Canada that exemplify the highest levels of excellence.
Award of Excellence and Tree for Life Special Achievement Award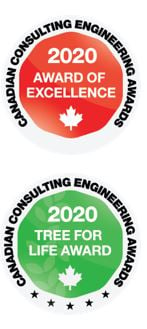 Building NX at Humber College was honored with an Award of Excellence in the Buildings category, and the Tree for Life special achievement award. We are honored to receive the prestigious Tree for Life award for outstanding environmental stewardship for the second year in a row.
Morrison Hershfield was the Consulting Engineer for this industry-leading project. We collaborated with Humber College, B+H Architects, Bird Construction and other project partners to achieve a holistic deep energy retrofit of the aging Building NX.
According to the Jury, Building NX "… really showcases the forefront of engineering in making existing building stock sustainable to meet Canada's carbon reduction targets. These are the buildings of the future."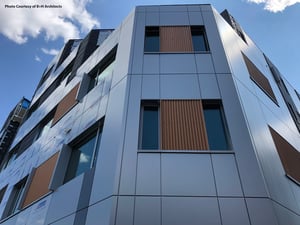 The Building NX retrofit demonstrates to building owners everywhere the benefits of applying Passive House principles to increase building resilience, reduce energy needs, optimize occupant comfort and lower operational costs.
As to why it was the Tree for Life and award of excellence winner, the jury captured the achievement when they said that "Building NX is an amazing structure and project overall. It's basically engineering at its best. It's a five-storey high, 4,500 square metre building which now has a peak energy demand similar to a single-family home."
The jury also commented on the great teamwork: "The team made by the engineer, the architect and the facility owner had to work together to make sure that this innovative approach to construction would lead to the desired results." Well, we couldn't agree more!
NX is the first existing building retrofit in Canada to achieve Zero Carbon Building-Design Certification from the Canadian Green Building Council (CaGBC). It is also registered and on track to achieve the first Passive House EnerPHit Certification for a non-residential building in Canada.
First Existing Building Retrofit to be Zero Carbon Building Design Certified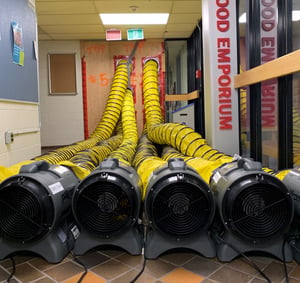 NX suffered from air infiltration, water penetration and condensation issues, resulting in poor performance. A complete envelope retrofit, energy efficient upgrades to heating and cooling systems and lighting, and a new Solar Photovoltaic system has transformed NX into one of the most energy efficient buildings in North America.
Leading the Way
Low carbon retrofit buildings like NX are vital to meeting Humber College's sustainability goals, and essential to achieving international targets for GHG reductions. Thomas Mueller, President and CEO of the CaGBC, acknowledged that "As the first retrofit to achieve zero carbon performance, Humber College is showing leadership and innovation. The NX building demonstrates Canada has the expertise and technology to contribute to global efforts in a meaningful way."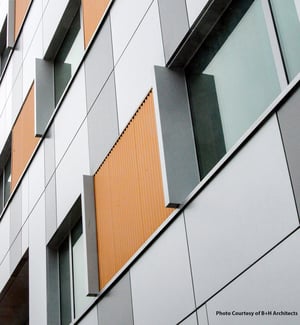 Humber College sought to provide an example to the Canadian design and construction industry of how to perform deep, net zero carbon ready, energy efficiency retrofits in Ontario's climate, to encourage similar projects in the future. According to the CaGBC, it now stands as "an example of how retrofitting to zero carbon should be done."
"Building NX is the most energy efficient building that Morrison Hershfield has worked on to date. We are excited that it will be showcased across Canada as an example of how collaborative decision-making and innovative approaches make retrofitting to zero carbon possible – even for the most challenging projects," said Anthony Karakatsanis, P.Eng., President & CEO, Morrison Hershfield.
CCE Virtual Celebration
Many thanks to CCE and ACEC-Canada for honoring excellence in engineering, imagination and innovation.
To view ACEC's press release about Building NX's win, please visit their website here.
Please visit this page for two videos showcasing the Building NX project, including one with jury members highlighting why it was selected for the Tree for Life award.
A summary of all of last night's Award of Excellence and Special Achievement Awards can be found here.
Read the special issue of CCE Magazine highlighting all of the winning projects here.
And finally, please follow ACEC's #20DaysofExcellence social media campaign. Building NX will be profiled on November 6, 2020.
More information
For more details on this exciting project, please contact David Kankaras at DKankaras@morrisonhershfield.com.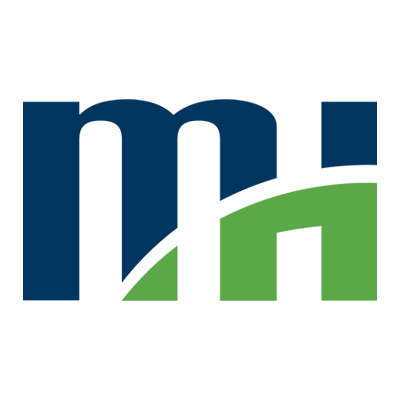 Morrison Hershfield is a market leading, employee-owned engineering firm that has been making a difference for more than 75 years. Our exceptional technical experts, thought leaders and high-performing employees deliver innovative, cost effective and technically sophisticated infrastructure solutions across the globe. Our highly focused approach to the clients and markets we serve ensures that we deliver the value our clients demand.