​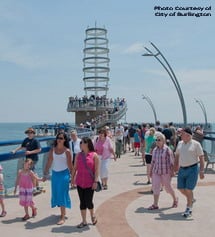 The Brant Street Pier in Burlington, ON was officially opened by representatives of the three levels of federal, provincial and municipal government officials on June 14, 2013, followed by an official public opening on June 15 … just in time for the 2013 Sound of Music Festival.
The Pier, located in Spencer Smith Park at The Waterfront in Downtown Burlington, is one of the city's signature attractions. It extends 137 metres over Lake Ontario, providing breathtaking views of the lake and Burlington's shoreline.
Morrison Hershfield Limited, the Prime Engineering Consultant and Engineer of Record for this iconic structure, was responsible for Project Management, Structural Engineering, Civil Engineering, Electrical Engineering, Permitting and Resident Full-Time Site Inspection. The firm has been acknowledged for our contribution to this challenging project on a bronze plaque permanently placed at the entrance to the pier.
The BSP, as it was called by the project team, is an S-shaped curved structure extending out over Lake Ontario. Originally designed with docking facilities, the structure now offers an excellent place for a leisure stroll or bike ride for local residents and visitors, or as a venue for public activities. Fitted with colored and patterned concrete slabs, and bicycle-friendly blue powder-coated railing and cable fences, as well as a public beach with accesses, the structure is indeed an aesthetically pleasing engineering feat.
A key feature of the project is the unique beacon tower sitting on an elevated node on the pier and rising approximately 25m above the lake water. Fabricated in steel and equipped with fully computer-remote-controlled LED lighting system, it has quickly become the real "beacon" of the City.
Other important structural features of the pier include:
It is a seven-span continuous structure with a concrete deck, supported by a steel framework, about five meters above the water
At the fifth span, about 85 metres from shore, the deck widens to 20 metres and contains a raised platform that is nine metres in diameter and supports the 12-metre beacon structure
The pier is built on 14 caissons each 1.4 metres in diameter and drilled into a bedrock foundation
The pier is 137 metres long and 7.5 metres wide, and features two safety handrails
Construction was sensitive to the environment. The elevated pier allows the free flow of water under the structure; the natural beach formation west of the hotel on the lake was preserved; and, the project included fish habitat compensation and enhancements for Sheldon Creek
More details on the Brant Street Pier project can be obtained from the City of Burlington's website.