COO Catherine Karakatsanis Recognized in WXN Canada's Top 100 Most Powerful Women, Hall of Fame
Morrison Hershfield is pleased to announce Catherine Karakatsanis was inducted into the Women's Executive Network (WXN) Canada's Most Powerful Women Hall of Fame. This comes after she is named Canada's Top 100 Award Winner for the fourth consecutive year.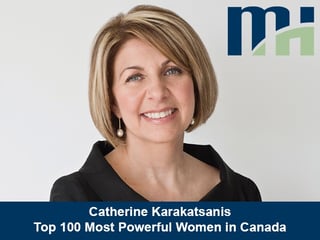 Launched in 2003, the Top 100 Most Powerful Women Awards celebrates the progressive accomplishments of Canada's top female executives, as well as their organizations and networks.
Catherine, who received the Corporate Executives award for breaking new ground and barriers in her profession and for her contributions to society, was honored during a gala celebration at the Metro Toronto Convention Centre on November 24.
Catherine Karakatsanis' remarkable career at Morrison Hershfield is evident through the series of engineering and senior management positions held prior to becoming COO. She brings extensive engineering and management expertise to her role and as a member of the firm's Board of Directors.
Ms. Karakatsanis is recognized for her diversity of business and engineering contributions through many industry awards, including the Engineering Medal of Management and the Ontario Women's Directorate – Leading Women Building Communities Award, among others. She was also inducted as a Fellow in the Canadian Academy of Engineering.
Her dedication to best management practices and commitment to the enrichment of the engineering profession have earned the respect of her colleagues at Morrison Hershfield and her peers across the country. She continues to be a role model, mentor and an inspiration.
The Top 100 Awards serve to recognize talented leaders in the private, public and not-for-profit sectors and to inspire the current and next generation to push the boundaries of what's possible.
"For these highly accomplished women, receiving a Top 100 Award means much more than recognition or a chance to share the spotlight with other remarkable Winners, it's an opportunity to pay it forward," says WXN founder, Pamela Jeffery. "WXN Top 100 Award Winners are powerful women both in their careers and their potential to transcend boundaries to have a greater impact on the communities around them."
At Morrison Hershfield, we embrace the diversity of our talent and leverage this inclusiveness to better understand the needs of our clients and communities as we deliver value to the many projects we undertake across North America. Simply put, we believe that empowering women to reach their full potential leads to stronger business performance.
From everyone at Morrison Hershfield, we congratulate Catherine on being celebrated as one of Canada's leading businesswomen!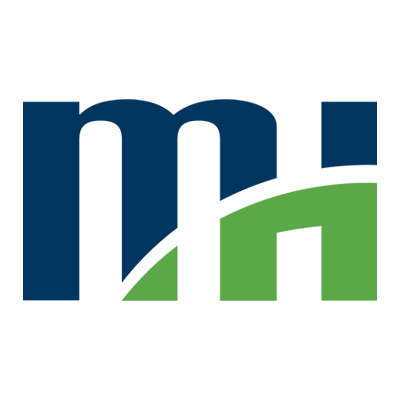 Morrison Hershfield is a market leading, employee-owned engineering firm that has been making a difference for more than 75 years. Our exceptional technical experts, thought leaders and high-performing employees deliver innovative, cost effective and technically sophisticated infrastructure solutions across the globe. Our highly focused approach to the clients and markets we serve ensures that we deliver the value our clients demand.