Commissioning a New Hospital: The Calgary Cancer Centre
Construction is underway on the Calgary Cancer Centre. It is poised to be an internationally recognized health care and academic facility, inside a state-of-the-art building.

A Grand Vision for the Vision for The Calgary Cancer Centre
This $1.4 billion Alberta Health Services project is the largest design and construction project currently underway in the city and involves building a new cancer centre at the Foothills Medical facility site in Calgary, Alberta. The 95,000 m2 complex will include 150 inpatient beds, outpatient facilities with over 100 exam rooms, systemic treatment and radiation treatment technologies, clinical trial units and research laboratories, a knowledge exchange centre and 1,650 stalls of underground parking. Not only will the building double the capacity to treat patients and double the space for clinical trials, its design, made up of two curing, L-shaped forms coming together in an embrace will provide patients, families and staff with a warm, comforting environment that invokes hope and healing.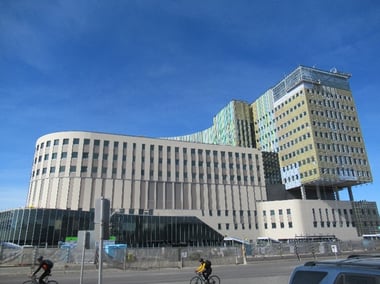 Morrison Hershfield's responsibility is to provide oversight for the entire commissioning process on behalf of the Province of Alberta so that once complete, all systems within the hospital work the way they were designed. This will ensure the comfort and safety of the new patients while also providing a smooth transition for hospital operators with documented operational procedures. Our team of engineers and commissioning specialists are working diligently to provide ongoing support to the Province, proactively confronting potential design and construction challenges so that new patients can be accepted on schedule. Forming a close partnership with the Province's team and quickly responding to emerging issues is critical to achieving the goals for the facility.
Caring for Patients and Their Families
To help realize the vision of the new Calgary Cancer Centre, the project partnered with patients, families, staff, physicians and the community throughout the planning, design and construction phases to understand what was most important to them and gain a greater level of understanding from their expertise and lived experiences. The Patient & Family Advisory Council was formed and was involved in the creation of the statement of requirements, the selection process for the design-builder, input on the detailed design and even helped review the mock-up spaces. The ultimate goal for the Calgary Cancer Centre is to provide a facility that feels welcoming and inspires hope, calm, a sprit of pride for those who work there and a sense of home for all.
Specialized Commissioning Services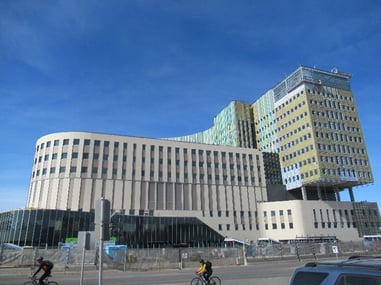 Hospitals of this size have many specialized commissioning requirements beyond the typical mechanical and electrical commissioning activities in the design, construction and warranty periods. Morrison Hershfield's team is overseeing commissioning work for building envelope, acoustics and vibration and audio-visual systems. We are also commissioning the hospital technology systems, patient-to-attendant communications systems, patient tracking systems, pneumatic tube systems (used for transporting lab samples and patient information) and innovative features such as automated guided vehicles.
Commissioning Throughout the Entire Process
Commissioning a critical facility such as the Calgary Cancer Centre involves various phases of commissioning to occur throughout the entire design-build process. Currently, the building is nearly enclosed and most of the building envelope elements are installed and undergoing testing. Most of the mechanical and electrical equipment is also installed and pre-functional verifications of this equipment have been taking place over the past three to four months. Fire alarm verifications are also underway, which will take many months to complete due to the large number of devices to be tested.
Once the majority of the pre-functional verifications are complete, functional verifications will proceed on a system-by-system basis. Some of the readiness for commissioning to take place will be dictated by areas of the facility reaching dust-free status, such as the Diagnostic Imaging Department and Research Laboratories. Others are determined by their interdependence on the completion of related systems. Acoustics and vibration testing will be conducted after finishes and furniture have been installed, to maintain comfortable indoor conditions and prevent issues with the operation of vibration-sensitive equipment such as LINAC and MRIs. All of these functional verifications will lead to the building-wide Integrated Systems Testing, which involves testing how the facility's systems respond to failure modes, such as fire alarm activation, security system activations like code blue and loss of normal power / switchover to emergency power.
Staying on Schedule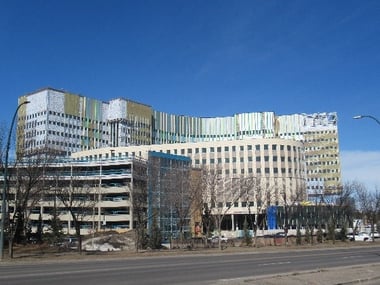 Despite the challenges of the pandemic, construction work on the Calgary Cancer Centre is on schedule. According to a recent update, over 5 million hours have been logged on the construction site so far. Our commissioning team is communicating and working with the Province, the bridging consultant and the design-builder's team to expedite design and construction decisions. We are working alongside our commissioning partners RSR Commissioning, Comtech Associates and FFA Consultants in Acoustics and Noise Control to streamline the commissioning process and meet the project's schedule. "I am privileged to work with so many knowledgeable and hard-working people on this project - not only with our commissioning team, but with the Province, its consultants and the entire design-build team," says Jeff Kemps, Commissioning Engineer with Morrison Hershfield. "I believe the lessons learned from this project will benefit many facilities, new and old, for years to come."
Alberta Health Services has an information page dedicated to construction updates on the new Calgary Cancer Centre here. You can see the construction progress on a construction webcam, updated every 30 seconds.

Want more information on Commissioning? Contact us.

Western Canada
Jeff Kemps
Principal, Commissioning Specialist Manager
jkemps@morrisonhershfield.com
Connect on LinkedIn
Eastern Canada
Rino Zan
Principal, Commissioning Specialist Manager
rzan@morrisonhershfield.com
Connect on LinkedIn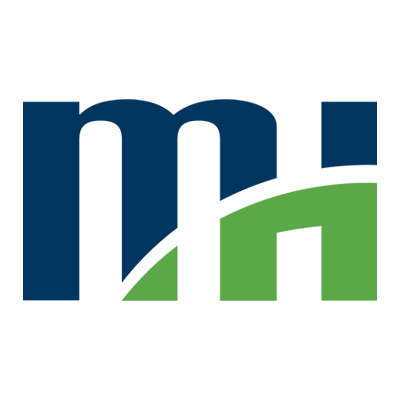 Morrison Hershfield is a market leading, employee-owned engineering firm that has been making a difference for more than 75 years. Our exceptional technical experts, thought leaders and high-performing employees deliver innovative, cost effective and technically sophisticated infrastructure solutions across the globe. Our highly focused approach to the clients and markets we serve ensures that we deliver the value our clients demand.