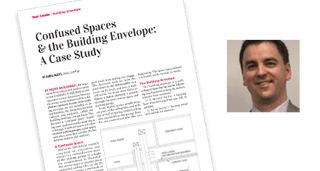 Project Manager Daniel Martis, P.Eng., LEED AP recently was published in the Spring 2015 edition of Condo Manager magazine. An excerpt of his article, entitled "Confused spaces & the building envelope: A case study" appears below:
In most buildings, the separation from indoor and outdoor space is easy to identify. A wall, floor or ceiling makes a clear distinction between the warm, toasty indoors and the cold, blustery outdoors. If parts of the building envelope are not installed or do not function, the distinction between indoors and outdoors, called the building envelope, can get fuzzy. This becomes a "confused space" requiring some analysis to understand where it belongs. Confused spaces are often found in parking garages, crawl spaces and attics, areas that can blur the line between indoors and outdoors.
A Confused Space
Morrison Hershfield recently completed an assessment and repairs to a confused service space in the parking garage of a highrise condominium in Thornhill. The service space is situated above suspended ceiling tiles on the P1 level, and contains a multitude of plumbing and HVAC equipment for the swimming pool and hot tub directly above. The service space was heated, keeping the pool floor above it nice and warm. Insulation was installed above the ceiling tiles, acting as the building envelope, and separating the space from the unheated parking garage below.
The service space contained ductwork for the pool dehumidifier (some call it the "Dry-o-tron") that kept the pool room from getting too muggy. The ductwork took air from the pool down to the dehumidifier in a room on P1 level, and sent it back still warm, but much drier.
To read the rest of the article, click here.