COVID-19 Won't Stop This Mission Critical Team from Delivering on Schedule
Morrison Hershfield is responsible for essential ongoing engineering design work on the TOR1 Data Center in Toronto. Typically, Digital Realty's project team, based out of Virginia, New York and Boston come to Toronto regularly to conduct inspections on recently completed projects.
However, in light of the current COVID-19 pandemic, they were frustrated that they could not travel between the US and Canada to do a site inspection without a 14 day quarantine after their arrival on both sides of the border. Our local team figured out a way for them to do a virtual walk-through.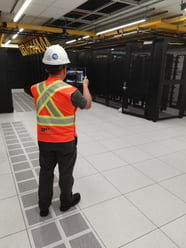 Morrison Hershfield's project manager, Jakub Pawelczak, used realtor open houses as a model of how technology could be applied in a similar fashion. He used a camera linked to a web meeting to give a virtual site walk-through to a team of eleven people working in various home locations in Virginia, New York and Florida. He completed the tour, zooming in and out on areas in real time as the client requested. It proved to be a valuable tool as some installation deficiencies were detected, allowing the client to identify and correct them quickly. "The virtual inspection went very well and the client was happy. My arms however, were dead after holding up the screen for 40 minutes," joked Jakub.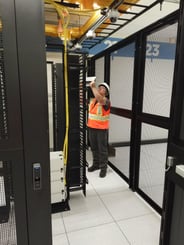 The virtual inspection was done while maintaining social distancing practices. It went so smoothly that the client identified it as a cost-saving opportunity for the future. Instead of having to send several people to site each month, the same goal can be accomplished virtually without having to be physically present at the data center location.
For more information on Morrison Hershfield's data center services, contact Sean Smith.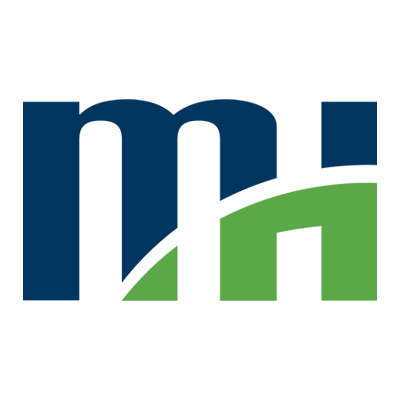 Morrison Hershfield is a market leading, employee-owned engineering firm that has been making a difference for more than 75 years. Our exceptional technical experts, thought leaders and high-performing employees deliver innovative, cost effective and technically sophisticated infrastructure solutions across the globe. Our highly focused approach to the clients and markets we serve ensures that we deliver the value our clients demand.