Cycling Through Challenging Weather to Raise Money for Children's Hospital
The Ride
"It was a cold, windy, rainy day that didn't
let up until the very end of the ride."
Sunday, May 7th, started out as a gloomy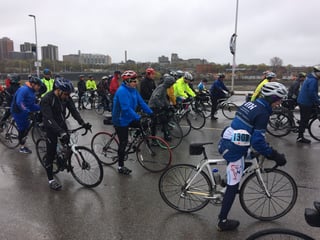 day that had us dreading the ride ahead. As a team, Morrison Hershfield registered fifteen participants for the CN Cycle for CHEO fundraiser; ten for the 70 km ride, three for the 35 km ride and two for the 15 km ride. While we had trained hard for the upcoming event, none of us were quite ready for the weather that greeted us at the starting line.


"We were feeling the elements; the rain was
coming down with no end in sight."

The group of us in the 70 km ride departed first, starting off together and riding together for the beginning of the journey. There were some strong cyclists on our team who paced us through the early stages of the ride, then pulled ahead of the pack as we approached the halfway mark.

"The halfway mark was the most challenging
part of the course, physically and mentally. In the back
of our minds, we knew we still had 35 kms to go."

Even though the weather conditions made it increasingly difficult to navigate the course, our team carried on with smiles on our faces, all of us finding motivation in thoughts of dry clothes and hot food awaiting us at the finish line.

"There were a few tough climbs in the second
half, but, with each other's help, we pushed through
and finished the race just in time for the sun to show
its face and cheer us across the line."

The clouds parted just in time for the team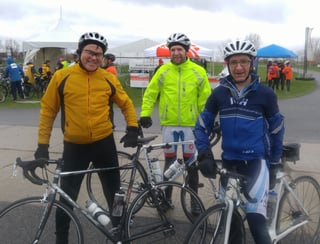 to cross the finish line, a sure acknowledgment of everyone's accomplishments. Despite the weather, everyone was in good spirits, having just completed an impressive 695 km of combined cycling. The sunshine at the end of the race was just icing on the cake.
Morrison Hershfield always looks forward to participating in charity and fundraising events throughout the year and have continued our commitment to giving back to the communities we work and live in.
"Overall it was a great experience and a nice
opportunity to do something with colleagues outside
of the office while supporting a cause that is
close to our hearts."
- Team Captain Anthony Kwok, Transportation Designer
---
Morrison Hershfield's Ottawa office recently registered fifteen colleagues to participate in the "CN Cycle for CHEO," a fundraising event for the Children's Hospital of Eastern Ontario to help kids with cancer. This annual fun non-competitive event offers cycling routes ranging from 15 to 70 km and walking paths of 2 to 5 km. Cyclists travelled along Ottawa's most scenic corridors, including the Sir John A. Macdonald and Aviation Parkways and the Rideau Canal, a UNESCO World Heritage Site.
As a team, our riders raised over $1800. All proceeds raised by this event are shared by the CHEO Foundation, Candlelighters Childhood Cancer Support Programs and Ronald McDonald House.
CHEO is an innovative leader in researching better treatment options and finding new cures so that more kids can survive cancer. Participating in this ride provides an avenue to give back to CHEO as they support so many families and children.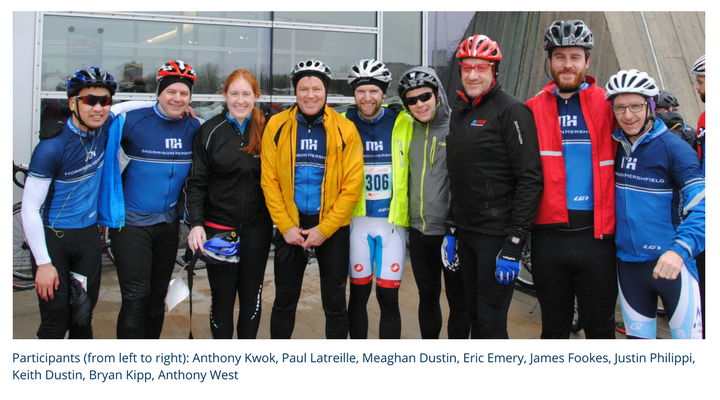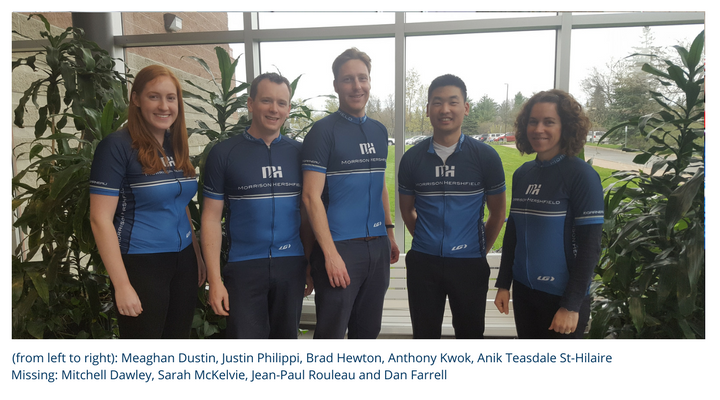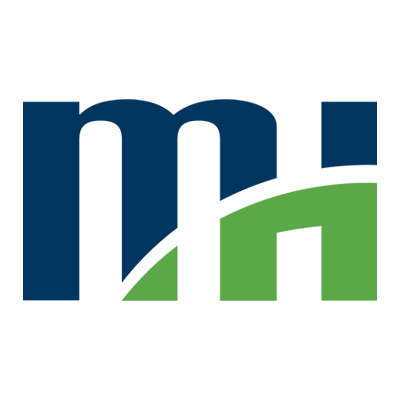 Morrison Hershfield is a market leading, employee-owned engineering firm that has been making a difference for more than 75 years. Our exceptional technical experts, thought leaders and high-performing employees deliver innovative, cost effective and technically sophisticated infrastructure solutions across the globe. Our highly focused approach to the clients and markets we serve ensures that we deliver the value our clients demand.