Edmonton Transit Service Wins CUTA Corporate Leadership Award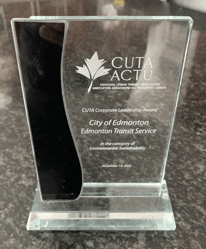 Congratulations to the Edmonton Transit Service (ETS) and the City of Edmonton! ETS received a Corporate Leadership Award of Excellence from the Canadian Urban Transit Association (CUTA) for Environmental Sustainability, in particular its forward-thinking design of the Kathleen Andrews Transit Garage (KATG).
Making History
ETS's single purchase of 40 electric buses made Canadian history. The deployment of electric buses in August 2020 and the LEED Silver KATG are significant milestones in the City's efforts to operate a cleaner fleet, reduce operating costs, and modernize service with cutting-edge vehicle technology and infrastructure. This leading-edge facility accommodates "the future" of public transit in Edmonton – electric buses that save money and further progress the city toward their GHG reduction goals.
LEED Silver Facility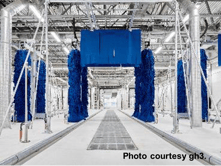 The innovative KATG is a 50,000 m2 transit garage, with maintenance bays and 28 charging stations. It is one of North America's leading transit facilities, with infrastructure to accommodate approximately 30 electric buses. This LEED Silver bus garage was designed and built with sustainability and resiliency in mind. It is energy efficient, saving money and lowering emissions, further progressing Edmonton toward its 2040 environmental strategic goals. Morrison Hershfield was Prime Consultant for this project, providing multidiscipline engineering and specialty services.
Sustainable construction materials were used to build the innovative two-story design, with underground parking. Key features include a reinforced roof to support the future installation of solar panels, LED lighting throughout, an underground parkade for employees, and a 1.5 million litre cistern storing recycled rainwater collected on the roof for bus washing. The bus wash system is equivalent to 7,500 household rain barrels of rainwater.
In addition, ETS is the first transit agency in North America to have overhead electric bus charging stations inside its transit facilities. They are the largest of their kind in Canada and provide a faster charge. This, combined with the buses' larger charge storage capacity, means customers can enjoy a better experience without stops to recharge.
Overcoming Challenges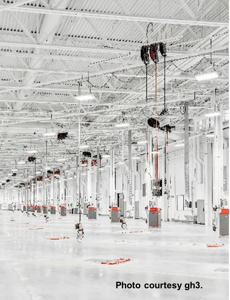 The decision to accommodate electric buses in the KATG was made after construction of the new facility began. The necessary specialized supporting infrastructure required changes to the original design. Concrete floors were reinforced to support the heavier buses, and charging stations, with supporting infrastructure and back-up power were installed. The updated design revised and repurposed space allocations and incorporated the charging equipment.
Supports to accommodate the suspension of new ceiling hung charging equipment and electrical conduit & wiring infrastructure were designed and installed. Joists were strengthened to support additional weight of overhead pantograph chargers. A new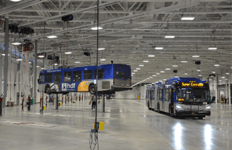 dedicated power distribution system, separate from the main facility electrical service, was implemented, complete with a 2.4MW standby generator to maintain charging in the event of utility power loss.
Community Partner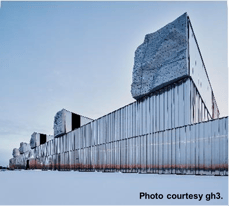 The City of Edmonton committed to spending 1% of the construction budget on public art. This is showcased on the garage rooftop.
The site also respects the heritage of the community through the preservation of the historic Canada Packers smokestack on site.
Concerns over increased local traffic in the area were alleviated through a detailed traffic analysis and by expediting the design and construction of a new side street in the area.
Industry Leader

ETS has taken a deliberate approach to improve the user experience and be environmentally responsible. This is evidenced by the deployment of electric buses and implementation of technologically advanced and sustainably designed infrastructure. Other municipalities seeking to implement sustainable transit systems can look to ETS for current best practices.
More information
For more information on the CUTA Awards and this year's winners, please visit the CUTA website.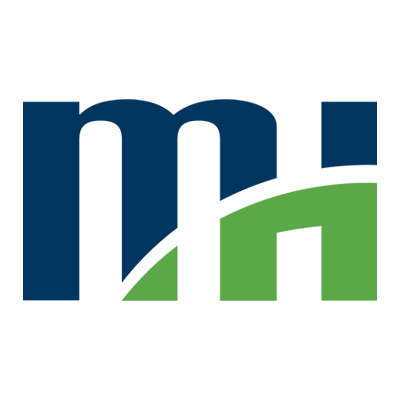 Morrison Hershfield is a market leading, employee-owned engineering firm that has been making a difference for more than 75 years. Our exceptional technical experts, thought leaders and high-performing employees deliver innovative, cost effective and technically sophisticated infrastructure solutions across the globe. Our highly focused approach to the clients and markets we serve ensures that we deliver the value our clients demand.