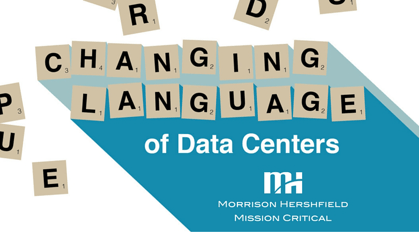 Morrison Hershfield Mission Critical is co-hosting a panel on 'The Changing Language of Data Centers' Thursday morning, April 21st at the American Cancer Society Center in Atlanta, GA.

Joining us is a diverse panel of select data center professionals with varied industry specialties to facilitate a broad, yet market focused panel discussion.
Join us and engage in the conversation as our collection of data center experts challenge traditional methodology and explore emerging market trends. Our discussion will cover recent developments in planning, procuring, design, constructing, and operating data centers.
Our panel of thought leaders are drawn from the construction, engineering, real estate, technology, and financial solutions industries to assure a diverse look at data center solutions spanning the scope of the industry.
Panelists
Tony TeVault
Vice President, Holder Construction
Ben Gonyea
Vice President, Global Product Management at Digital Reality
Wendy McArthur
Managing Director, Data Center Solutions at JLL
William Souder
Director, Global Solutions Engineering, Cloud & Colocation at Zayo Group
Jim Stoddard
Senior Director, Global Data Center Support at Elavon
Moderator
Sean Smith
Principal, Morrison Hershfield Mission Critical