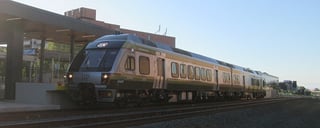 There has been a lot of buzz about the newly revitalized GO Bloor station in Toronto, ON. The station which handles rail traffic for both the new Union Pearson Express line and regular GO Trains, is undergoing a significant improvement and addition to handle increased train service.
It has been a major multidisciplinary undertaking for Morrison Hershfield, who has provided project and construction management, as well as architectural and engineering design services. Our multidisciplinary, in-house team is comprised of rail experts, architects, civil, structural, mechanical and electrical engineers, signage designers, code & life safety experts, contract administrators, and site inspectors.
The improved station boasts features such as two glassed-in "light boxes", open-air platforms, platform canopies, a platform snowmelt system, system wide electrification program, barrier-free access, pedestrian tunnels, access to Bloor St. and Dundas St., and accommodation for a future below grade link to the Toronto Transit Commission's Dundas West subway station.
Construction on the station improvements are expected to continue throughout the summer.