Humber Building NX Achieves First Zero Carbon Certification in Canada for a Retrofit
The retrofitted Humber Building NX has become the first retrofit in Canada to be achieve Zero Carbon Building - Design Certification, awarded by the Canada Green Building Council (CaGBC).
Achieving certification to Zero Carbon Building Standard seems like a daunting task,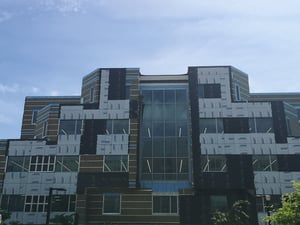 especially for a retrofit project. The relative impact of thermal bridging and envelope transitions is amplified in low energy buildings and particularly challenging to resolve in retrofit conditions. However, the retrofit of Building NX surmounted these challenges through careful integration of architectural design, energy modelling, envelope design and mechanical design. In fact, it is projected that the new designs will reduce building energy consumption by approximately 70% compared to that of current operation.
Humber's Commitment to Energy Reduction
Humber College has a long-term, decision-grade Integrated Energy and Water Master Plan that aims to reduce Humber's source energy by 50%, and associated carbon emissions by 30%. To support this plan, a number of campus buildings are undergoing energy retrofits. For Building NX at Humber College's North Campus in Toronto, the College not only sought to rectify the poor envelope and thermal comfort issues, but envisioned a result that would showcase a deep energy retrofit for existing buildings in the Canadian climate.
Originally the North Campus Library, Building NX is now part of a thriving, growing interconnected complex of student academic and administrative buildings -- with a demonstrated mandate of deep energy retrofits. Retrofit to the EnerPHit standard, Building NX is now the College's most energy efficient building, and one of the most energy efficient in North America.
When finished, Building NX will be totally reclad with an ultra-high-performance skin and heating and cooling systems upgraded to bring its total EUI down to 64 kWh/m2/yr. This will make NX one of the most energy efficient buildings in Canada!
Zero Carbon Building Standard
CaGBC launched the Zero Carbon Building Standard to prioritize the pursuit of zero emissions. The Zero Carbon Building Standard is a made-in-Canada solution to achieving climate change commitments, providing a path for both new and existing buildings to reach zero carbon.
The standard measures a zero carbon balance that is demonstrated by achieving a net emissions balance of zero or less. This means that no net greenhouse gas (GHG) emissions are associated with building operations. GHG emissions are offset by generating clean, renewable energy onsite or offsite.
Collaborative Decision Making and Design Excellence
In partnership with Humber College and B+H Architects, Morrison Hershfield was the engineering consultant for this project. We provided mechanical engineering, electrical engineering, building envelope consulting, structural engineering, code consulting and Passive House consulting services. Our team demonstrated exceptional collaborative decision making and leveraged a variety of tools using innovative methods to achieve the impressive outcome.
The project involved replacing the existing building envelopes with new ones that are highly insulated and air tight; significant improvements to the HVAC systems (including water cooled VRF systems and dedicated outdoor air systems with heat recovery ventilators); replacing existing lighting and lighting controls and adding new solar photovoltaic systems.
Additional Information
The professionals at Morrison Hershfield have a comprehensive understanding of building performance. Our holistic view of buildings and our unique mix of practical design, construction and research experience in multiple engineering disciplines, enables us to help our clients meet their energy performance objectives.
For more information on this project or to see how Morrison Hershfield can help you achieve your Net Zero Carbon goals, please contact David Kankaras.
To read the official press release issued by Humber College, click here.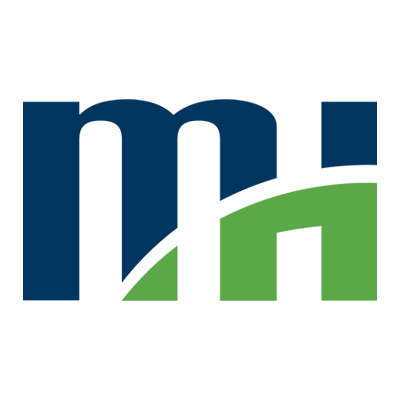 Morrison Hershfield is a market leading, employee-owned engineering firm that has been making a difference for more than 75 years. Our exceptional technical experts, thought leaders and high-performing employees deliver innovative, cost effective and technically sophisticated infrastructure solutions across the globe. Our highly focused approach to the clients and markets we serve ensures that we deliver the value our clients demand.