3 Lessons Learned from a Junior Engineer Working on an $8.3 Billion Off-Shore Oil Project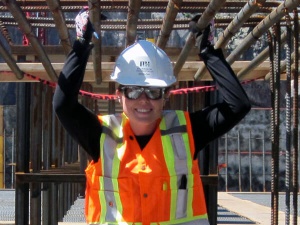 The Hebron oil field is located in the Atlantic Ocean, approximately 350 kilometers (217 miles) from our St. John's, Newfoundland office. Structural Engineer Vanessa Pynn conducted site visits and provide construction support as part of Morrison Hershfield's scope of work on the massive project.
First discovered in 1980, the offshore oil field is estimated to produce more than 700 million barrels of oil underneath an average of 93 meters (305 feet) of water. The Hebron topsides is comprised of drilling, production and utility equipment including living quarters, supported by a stand-alone gravity-based structure (GBS) that sits on the ocean floor.
Construction on the platform started in January 2013. When it is estimated to be completed in 2017, it is designed to produce 150,000 barrels of oil daily.
Lesson 1: Trust your training and your team
"I worked on this project as a junior engineer," said Pynn. "In a support role, I would visit the site and conduct regular site visits to ensure everything was being installed as per the drawings. If I spotted an issue or if something couldn't be installed as drawn, I'd report it back to the design engineers with the issue who may have some additional questions and would develop a solution to fix it on site."
Pynn, who earned her P. Eng. in October 2014, graduated in February 2011 from Memorial University in Newfoundland with a degree in civil engineering. As a junior engineer on the Hebron Topsides project, she worked in tandem with staff throughout our Canadian offices on this project for two years. Before the Hebron topsides project, Pynn's first project was conducting a design review for an elementary school.
Lesson 2: Communication is key
"I worked with staff across the company, specifically from our Vancouver and Toronto offices," Pynn said. "It was great to work with [Senior Vice President] Robert Selby and [Senior Structural Engineer] Subrata Chakrabarti – I learned from those leaders."
When Pynn was on site, her day started early in the morning. Once on site spent a full day providing construction support. As the eyes and ears on the ground, or at sea, Pynn was required to follow the sequence of construction and regularly provide observations back to the design engineers. The design engineers may have follow-up questions that would require more detailed information including notes and photos. Communication was bi-directional and collaborate. Her ability to quickly and concisely communicate on site issues allowed the design team to more efficiently provide corrective solutions.
Lesson 3: Don't get overwhelmed
As issues arose, Pynn worked in tandem with the Morrison Hershfield staff to conduct feasibility studies for the appropriate remediation that was conducted on-site. "Part of what made the project challenging was that one of the biggest modules comes in on a barge," Pynn recalled. "It's then jacked onto the pier and skids to its final resting place."
A project CBC News estimates as producing 3,000 jobs at its peak in 2014, the cost is estimated by ExxonMobil to be in the neighborhood of $8.3 billion to build Hebron plus an additional $5.8 billion to operate until the oil runs out in an estimated three decades. With so much at stake, Pynn had to stay focused on one detail at a time and not get too caught up in the massive scope of the project.
With the opportunity to work on a complex project directly out of university, it taught Pynn firsthand the value of positive, constant collaboration not only within Morrison Hershfield but alongside the various firms on the project.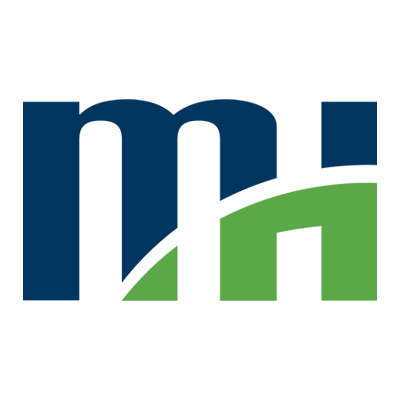 Morrison Hershfield is a market leading, employee-owned engineering firm that has been making a difference for more than 75 years. Our exceptional technical experts, thought leaders and high-performing employees deliver innovative, cost effective and technically sophisticated infrastructure solutions across the globe. Our highly focused approach to the clients and markets we serve ensures that we deliver the value our clients demand.