Living Future Vancouver
On Thursday, April 19th, 2018, Living Future Vancouver produced a sold out event that focused on bringing healthy and regenerative buildings to the city. Held in a historic former Bank of Canada building now called The Permanent, the event showcased an all-star lineup of speakers and panelists, including:
Eric Corey Freed, Sustainability Disruptor, Morrison Hershfield (Emcee)
Dagmar Timmer, Managing Director, One Earth (Moderator)
Panelists:
John Madden, Director, UBC Sustainability & Engineering
Ron Kellett, Director, UBC School of Architecture and Landscape Architecture & Research Partner with the Pacific Institute of Climate Solutions
Helen Goodland, Managing Partner, Brantwood Consulting
Tobi Reyes, CEO, PortLiving
Regenerative Buildings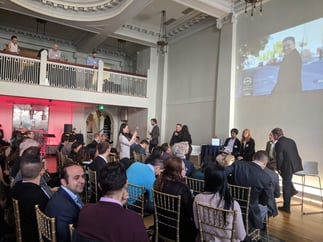 Eric Corey Freed kicked off the event with a hilarious whirlwind tour of the current state of the design world. He emphasized the need to think big and set large targets, such as Zero Waste, Zero Energy and Zero Carbon. Eric shared his approach to getting clients to open up to innovation by calling out and questioning the standard assumptions that go into any building.
"Clients assume that every building must have utility bills, or that every building must flush the toilets with clean drinking water, but that's not the case," Eric stated, "Instead we can question those assumptions and open up possibilities to save money and make a better building."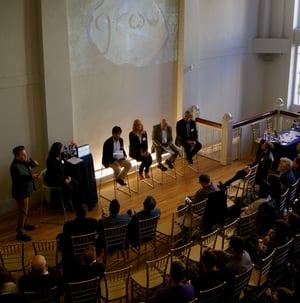 Following the opening, Dagmar Timmer began the panel by having each panelists share how they incorporate regenerative systems into their work. What followed was an exciting discussion highlighting the local efforts and policies supporting the development of regenerative buildings. After the discussion, audience members shared their ideas for moving the region forward. Eric then closed the event by sharing three suggestions for how to foster innovation in your building projects:
No client is going to walk in and ask you to "be innovative." As designers and engineers, we need to identify problems and offer up innovative solutions.
A typical building project has a number of unspoken assumptions about systems, materials and approach. Step back and point out these assumptions and challenge them. This opens up the possibility of exploring the use of regenerative systems.
The biggest expense in any building are the people, so frame solutions around how they affect and benefit the occupants.
Living Future Vancouver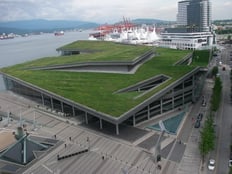 The Living Future Vancouver Collaborative consists of a group of local volunteers working in regenerative and healthy buildings. It is the local chapter of the International Living Future Institute, a hub for visionary certification programs, such as the Living Building Challenge and Living Product Challenge.
Continue to celebrate Earth Day every day. Get involved.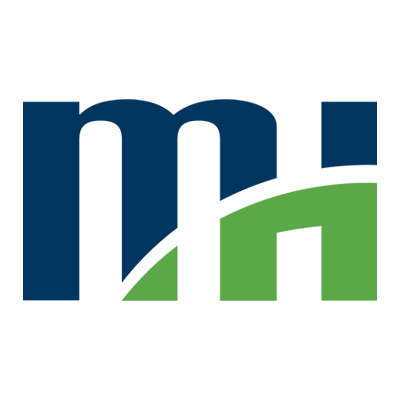 Morrison Hershfield is a market leading, employee-owned engineering firm that has been making a difference for more than 75 years. Our exceptional technical experts, thought leaders and high-performing employees deliver innovative, cost effective and technically sophisticated infrastructure solutions across the globe. Our highly focused approach to the clients and markets we serve ensures that we deliver the value our clients demand.