Morrison Hershfield Wins Three Canadian Consulting Engineering Awards
Morrison Hershfield scored a hat trick at the 2019 Canadian Consulting Engineering (CCE) Awards Gala in Ottawa Tuesday night. In addition to two Awards of Excellence, we were honored with the Tree for Life Special Achievement Award for a project demonstrating outstanding environmental stewardship.
The CCE Awards are considered the industry's highest honors, presented to projects by Canadian firms that showcase the most remarkable engineering feats. The awards are a joint program of the Association of Consulting Engineering Companies (ACEC) and Canadian Consulting Engineer magazine.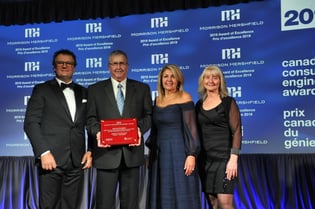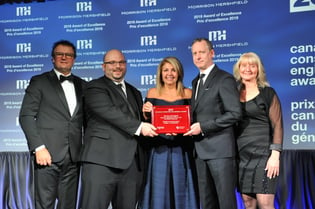 Kaliti Wastewater Treatment Plant and Sanitary Sewer Trunk Mains, Ethiopia


The Kaliti WWTP and Sanitary Sewer Trunk Mains was honored with the Tree For Life Special Achievement Award and an Award of Excellence in the International category. The Tree for Life is presented to the designers of a project that distinguishes itself by its commitment to the environment.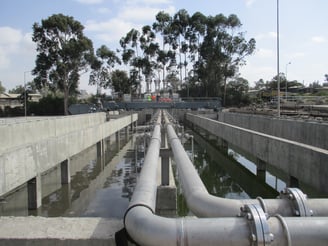 Rapid development and increased density in Ethiopia's capital city, Addis Ababa, resulted in numerous challenges with their piped sanitary sewer system, increasing the risk of a major disease outbreak. Morrison Hershfield collaborated with local partner ARMA Engineering PLC and our client Addis Ababa Water and Sewerage Authority to explore various treatment options and create a decision matrix to establish goals and evaluation criteria. A new wastewater treatment plant was designed and constructed, and 18 km of new pipe was added. Innovative and cutting edge treatment technology and training was provided resulting in a new, client-managed and operated system that not only improves the treatment process and sewage collection system, but ultimately the health and quality of life of over two million people.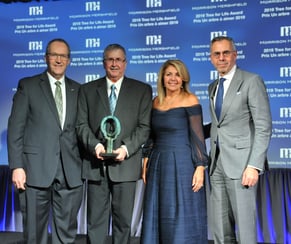 Judges acknowledged this project raised the bar by transferring knowledge to a client and developing skills that transformed the lives of millions of residents. Anthony Karakatsanis, P.Eng., President & CEO of Morrison Hershfield agreed, stating "Morrison Hershfield is committed to making a difference. This Award of Excellence really validates our effort to deliver complex projects with significant social, economic and environmental benefits."
For more on this project, please visit:
Cloudraker Skybridge and Raven's Eye

The Cloudraker Skybridge and Raven's Eye project received an Award of Excellence in the Transportation category. For this remarkable project, judges were particularly impressed with the "ingenious and effective solutions the team put in place to address the logistical challenges and by the innovative design to tackle the issue of snow removal."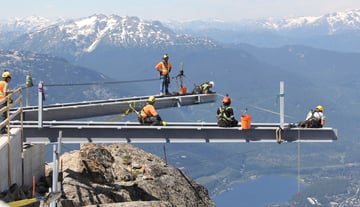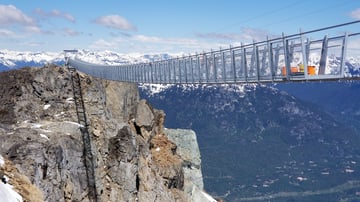 Whistler Blackcomb wanted to expand its tourist infrastructure with a safe yet thrilling attraction, and the Cloudraker Skybridge and Raven's Eye rose to the challenge. As Lead Engineer for the Design-Build Team with Axis Mountain Technical, Morrison Hershfield designed a 130 m long steel pedestrian suspension bridge leading to a 12.5 m cantilevered viewing platform over 2,100 m above sea level. These are thought to be the highest pedestrian structures in North America.

The remote site presented extreme environmental exposure, limited construction access and required some components to be trial-assembled and then flown into place by helicopter. Taking into consideration the hazards and effectiveness of snow removal operations in the winter, the Skybridge deck is a modular design with the ability to be efficiently removed and reinstalled during the off-season.
"The Cloudraker Skybridge and Raven's Eye project is a perfect example of exceptional collaboration and teamwork. The design-build team went 'above and beyond' to achieve a uniquely-designed solution to suit the challenging terrain at the peak of Whistler Mountain. We are grateful to be recognized with a CCE Award of Excellence and share it with the entire team," said Catherine Karakatsanis, P.Eng., Chief Operating Officer, Morrison Hershfield.
We would like to give a shout out to our amazing project partners Whistler Blackcomb (Owner), Axis Mountain Technical (Prime Contractor), Alpine Solutions Avalanche Services (Snow & Environmental Loading), George Third & Son (Steel Fabricatorand), Kent Larose (Suspension Bridge Specialist) and Wyllie & Norrish Rock Engineers (Geotechnical).
For more on this project, please visit:
#20DaysOfExcellence
Be sure to follow ACEC's #20DaysOfExcellence campaign. Beginning November 1, 2019, they will be promoting a different award-winning project each day on social media as well as on the www.acec.ca homepage.
Cloudraker Skybridge and Raven's Eye will be featured on Friday, November 8, 2019 and Kaliti WWTP and Sanitary Sewer Trunk Mains will be featured on Thursday November 28th 2019.
For additional details please visit www.acec.ca/20daysofexcellence.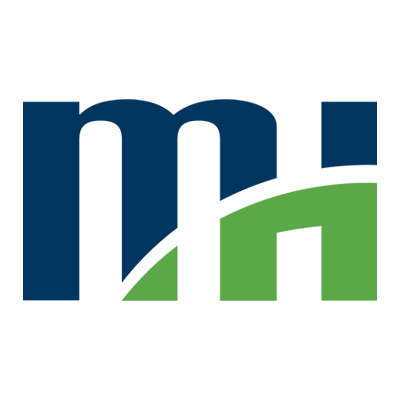 Morrison Hershfield is a market leading, employee-owned engineering firm that has been making a difference for more than 75 years. Our exceptional technical experts, thought leaders and high-performing employees deliver innovative, cost effective and technically sophisticated infrastructure solutions across the globe. Our highly focused approach to the clients and markets we serve ensures that we deliver the value our clients demand.