Motivational MHer: Duncan Pringle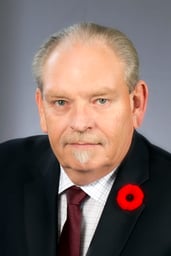 People are the lifeblood of an organization, and the value of long-term employees cannot be underestimated. They possess a great deal of knowledge, and a deep understanding of our company culture, capabilities and history. The people who have been with Morrison Hershfield for the long-term have helped shape the company. They've built countless relationships, developed best practices through many lessons learned, and provided an essential support system for new staff as they find their way within our organization. We are thankful for their unrivaled enthusiasm to develop, inspire and motivate us all
Duncan Pringle recently celebrated 35 years with Morrison Hershfield. He has worked tirelessly over the years to lead and align our engineering teams with the company's vision, to create a positive team culture and to efficiently deliver our projects. We asked Duncan to tell us why he has stayed with the company all these years. His response: opportunity. The opportunity to progress his career, to be part of an enviable corporate culture, to help strengthen a brand, to build and nurture relationships with clients, partners and colleagues, and to work on transformational projects.
Building a Career in Transit
Duncan is Director of Business Development for Morrison Hershfield's Transit business and a Principal of the firm. He has been instrumental in the evolution of our Transit group and has built strong relationships with clients and partners across the industry throughout North America.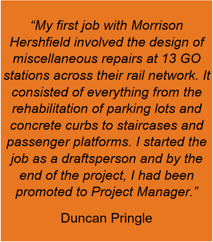 Duncan remembers his first job with Morrison Hershfield, working as a design draftsperson on a GO Transit project. He remembers the great feeling of being part of a team and helping to bring the client's vision to life. Over the years, he has worked on a wide variety of transportation, municipal and land development projects, but transit has been the constant thread …. It is here that he's made a significant difference.
As his career progressed, Duncan's role on projects evolved from drafting and design to managing and business development. He has been involved in the procurement, design and construction of transit infrastructure across Canada, including busways, railways, light rail, maintenance facilities and more. Along the way, he always placed a focus on strengthening the relationships with the people around him. He has both received and provided excellent mentorship along the way.
One of the things he enjoys most about the transit field is its involvement of multiple departments, which gave him the opportunity to connect with a wide range of professionals with different areas of expertise. This created endless learning opportunities and furthered his love for the field.
Building Relationships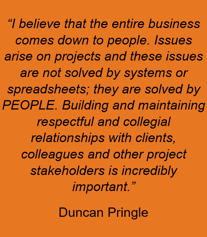 Throughout his career, Duncan has maintained a people-focus. This is an invaluable skill he learned early on from his mentors, and something he has tried to pass along to others. He feels fortunate to have been on both sides of the mentee-mentor relationship, giving and receiving well-rounded mentorship in the areas of technical excellence, relationship building and business development. "It is important to be curious. Ask questions, challenge yourself and recognize opportunities to develop your skills and progress your career so that you can be trusted to take on greater responsibilities - on projects and/or within the business. I had a lot of help navigating my way through the early years, and I want to do the same for others."
Duncan continues to place significant emphasis on building relationships with his colleagues, clients and project partners. One of his early mentors helped him to see the significance of building a foundation of trust with a client, and his ongoing efforts led to his current role in business development.
Transformative Projects
Duncan has been involved in many different types of projects, but most significantly, he has been instrumental in the evolution of our Transit Group. One experience that stands out for him involves three small words that turned out to be very big: "WE GOT IT!" These words were in reference to Morrison Hershfield (as part of Capital Transit Partners) had won our first Light Rail Transit (LRT) bid in Ottawa. The OLRT assignment was transformative for both MH and the City of Ottawa, and 11 years later, staff continue to grow with this project.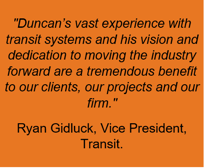 Of late, Duncan is excited about our role in helping clients build state of the art, sustainable bus maintenance facilities, including innovative designs and retrofits to accommodate electric bus fleets. Collaboration with our sustainability teams has yielded incredible results, reducing carbon footprints of these facilities through approaches like green roofs, solar panels, recycled rainwater, infrastructure to support electric buses and more.
Developing the Next Generation of Leaders
What can the next generation learn from Duncan? Seize the opportunities you are given! Build relationships – with mentors, peers and clients. Don't be afraid to try something new or complex – you have support around you with the connections you've built. If you are fortunate, you'll find a corporate culture that supports that development and allows you to shape your future.
Duncan's vision is to solidify Morrison Hershfield's position as a leader in the provision of transit infrastructure in Canada. Whether it is a bus garage, LRT system or new subway line, he is always on the look-out for that next big project. Meaningful work with technical challenges will grow the next generation MH leaders.
Congratulations Duncan on reaching your 35-year milestone with Morrison Hershfield. Your enthusiasm, determination and focus on people exemplifies our culture. Thank you for your drive to move the industry forward, and for choosing Morrison Hershfield to be a meaningful part of your journey!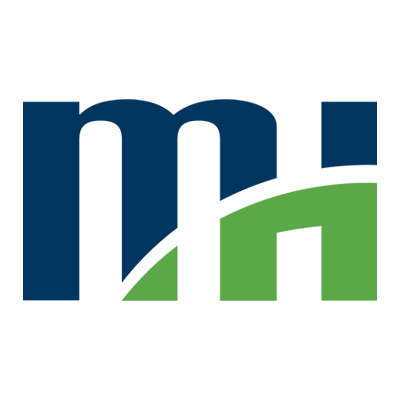 Morrison Hershfield is a market leading, employee-owned engineering firm that has been making a difference for more than 75 years. Our exceptional technical experts, thought leaders and high-performing employees deliver innovative, cost effective and technically sophisticated infrastructure solutions across the globe. Our highly focused approach to the clients and markets we serve ensures that we deliver the value our clients demand.