North Channel Bridge and Toll Plaza Open in Cornwall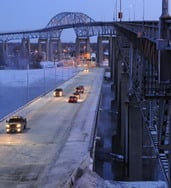 The new low-level North Channel Bridge, The Seaway International Bridge Corporation (SIBC) Toll Plaza and the Canada Border Services Agency (CBSA) Plaza in Cornwall were officially opened on January 24, 2014 at 7:00 am by representatives from various partners, including, the Federal Bridge Corporation Limited (FBCL), SIBC, CBSA, Transport Canada, Mohawk Council of Akwesasne and the City of Cornwall. Morrison Hershfield has been providing Contract Administration services to FBCL since 2011 on these projects.
Overhanging the St-Lawrence Seaway, the Seaway International Bridge in Cornwall is a vital road link between Canada and the United States. Every year, the bridge accomodates over 120,000 commercial transits and more than 2,300,000 passenger vehicle transits.
The bridge crossing connects mainland Canada at the City of Cornwall to Cornwall Island and to the U.S. State of New York near the City of Massena. The owner of the Crossing, the Federal Bridge Corporation Limited, decided to remove the existing high level North Channel Crossing structure, which requires excessive maintenance efforts due to factors such as age, condition and usage, and replace it with a lower level structure.
In 2010, the federal government announced the construction of the new North Channel Bridge through a $74.8M project planned in four phases. Contract 1, In-water works was completed in 2011 and consisted of the construction of three new piers with the North Channel. Contract 2, construction of structures and approach detours was completed in September 2013. The new structure is approximately 330m long and carries 2 lanes of traffic.
In a quote from a recent press release, FBCL President and Chief Executive Officer Mrs. Micheline Dubé stated that "The new bridge incorporates advanced technology in its design and construction. It is a tremendous project for the FBCL team to provide Cornwall, Akwesasne and surrounding communities a sustainable and effective Canada - United States link."
Morrison Hershfield was retained by Federal Bridge Corporation Limited in 2011 to provide Construction Contract Administration services for the North Channel Bridge construction and in 2013 to provide Construction Management services for the CBSA Interim Port of Entry facilities. Morrison Hershfield wishes to congratulate FBCL for reaching this major milestone.
Further details can be found on the project website.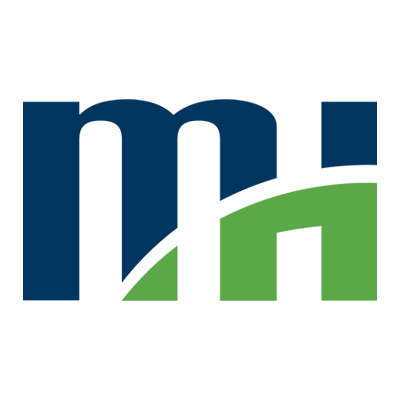 Morrison Hershfield is a market leading, employee-owned professional engineering and management firm that has been making a difference since 1946. We deliver technically sophisticated, cost effective and sustainable infrastructure solutions across the globe.