North East Transit Garage Wins 2016 Canadian Architect Award of Excellence
Prime consultant Morrison Hershfield and lead design architect gh3 were honored at the Canadian Architect Awards of Excellence ceremony on November 30th, receiving the prestigious Award of Excellence for work on the City of Edmonton's upcoming North East Transit Garage (NETG).
Over 150 submissions were received and the judges, a panel of three founding principles of Canadian architectural firms, awarded the Award of Excellence to just four projects.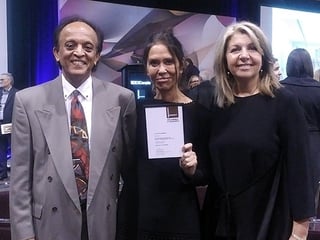 In attendance on Wednesday evening were (left to right) Morrison Hershfield's Design Manager and Senior Architect Haris Wijayasiri, gh3's Lead Architect and Urban Designer Pat Hanson and Morrison Hershfield's COO – Principal-in-Charge and Corporate Sponsor for NETG – Catherine Karakatsanis.
NETG, a $186 million project, is designed to achieve LEED Silver certification. The over 500,000 square foot transit garage will be home to over 320 workers, from bus drivers, bus maintenance staff, administrators, supervisors, and cafeteria and custodial staff. NETG will accommodate 300 buses, 35 maintenance bays with three undercarriage wash bays and four re-fuel bays with exterior wash bays.
Our senior team on the NETG project were also central to the successful design and execution of Edmonton's Centennial Garage, a LEED Silver transit garage for over 250 buses that opened in April 2010.
As prime consultant, Morrison Hershfield's staff will deliver services ranging from structural, mechanical and electrical engineering to geo-environmental remediation, building envelope consulting and traffic engineering.
A transit garage with a unique connection to Edmonton's history
NETG will be unique in two regards. After completion, it will be named in honor of Kathleen Andrews, Edmonton's first female bus driver who passed away in 2013 at the age of 73.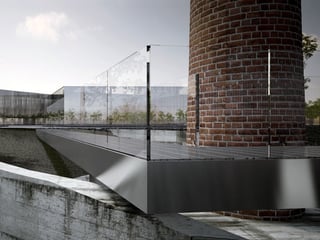 Second, a 50 meter tall brick smokestack – the last remaining structure from 1936's Canada Packers meat packing plant – still stands on the premises. It was designated a Municipal Historic Resource by the City of Edmonton in 2015.
Visitors will soon be able to visit the smokestack with a sidewalk featuring historical information panels, lighting and benches.
"This new garage will respect the history of the site," Coun. Tony Cochrane, who represents the area, said during the groundbreaking in June. "With a modern design and a capacity to potentially house electric buses, the North East Transit Garage plays a key role in serving generations to come with better transit choices."
A modern design that will delight its employees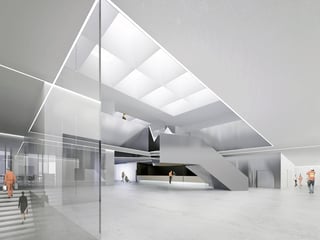 The modern design will feature interior spaces covered in natural light controlled by light diffusing glazed panels. When employees enter the building – primarily from underground parking – they will be greeted by light wells and enter through a sky lit concourse.
NETG represents just the second transit garage to open in Edmonton in over 30 years. Construction began on June 16, 2016, and the garage set to open between late 2018 and 2019.
Eligible projects for the Canadian Architect Awards of Excellence must be either in the design stage, scheduled for construction, or under construction but not substantially complete by September 2016.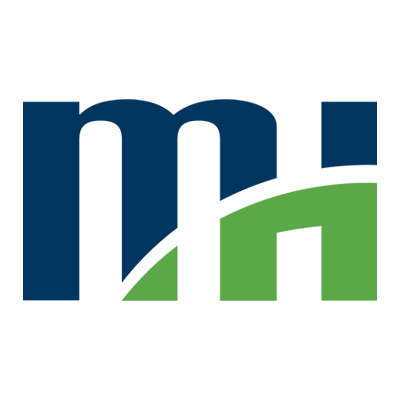 Morrison Hershfield is a market leading, employee-owned engineering firm that has been making a difference for more than 75 years. Our exceptional technical experts, thought leaders and high-performing employees deliver innovative, cost effective and technically sophisticated infrastructure solutions across the globe. Our highly focused approach to the clients and markets we serve ensures that we deliver the value our clients demand.