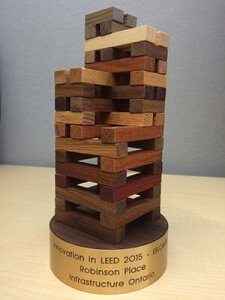 Morrison Hershfield congratulates Robinson Place and Infrastructure Ontario's Real Estate Management Team on receiving the 2015 Innovation Award for Existing Buildings: Operations & Maintenance from the Greater Toronto Area Chapter of the Canada Green Building Council (CaGBC).
Robinson Place is located at 300 Water Street in Peterborough, Ontario. It is the first existing government building in Canada to receive LEED Platinum EB: O&M certification. Key supporters and stakeholders to Infrastructure Ontario on this landmark project and recent award include the Ministry of Natural Resources and Forestry (MNRF), CB Richard Ellis, and Morrison Hershfield Limited.
See right for a photo of the award received. It is made of reclaimed wood and can be completely reassembled. Robinson Place serves as an ongoing model to other similar buildings and will help chart a strong path for sustainability within the extensive real estate portfolio managed by Infrastructure Ontario.