Summer Fun in Atlanta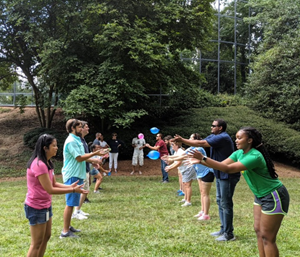 There's nothing like the draw of a little friendly competition to lure people away from their desks! Staff in Atlanta recently took advantage of the beautiful summer weather to enjoy an afternoon of fresh air, teamwork and a little fun!
Two teams of about 10 players each competed in a number of events, with team "Hershfielders" narrowly outperforming team "Winner Winner Chicken Dinner." Field Day events included a Jump Rope Relay, Tug-O-War, Egg & Spoon Relay, Balloon Toss, Three-Legged Race and the Sponge & Bucket Relay. After the games, the day was capped off with a barbeque, an eclectic playlist and a lot of laughter.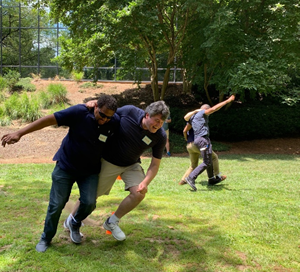 "As an Intern, being able to participate in the Atlanta Field Day made me feel like a part of the Morrison Hershfield family! With this being a major internship for me, it was nice to do something fun with the office because it allowed me to feel more connected with the other employees." - Intern
"I was able to see the competitive side of some of my colleagues today! Everyone came prepared to win. The Fun Committee did a great job organizing an event that brought us together to have a little fun and relieve some stress!" – Marketing Coordinator
"Field day was a perfect excuse to get outside, have a good time with my work family, and re-energize the whole office. I am amazed at how an afternoon of games and food brought everyone closer together. Events like this remind me how thankful I am to be a part of this passionate, hardworking, Morrison Hershfield team." - Structural Engineer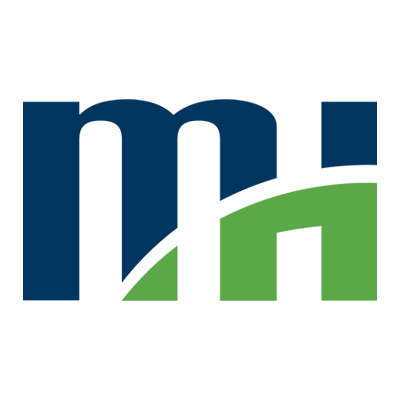 Morrison Hershfield is a market leading, employee-owned engineering firm that has been making a difference for more than 75 years. Our exceptional technical experts, thought leaders and high-performing employees deliver innovative, cost effective and technically sophisticated infrastructure solutions across the globe. Our highly focused approach to the clients and markets we serve ensures that we deliver the value our clients demand.