United Way Engineering Day of Caring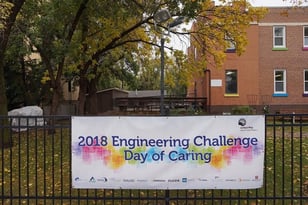 The Engineering Challenge is an annual event, executed in partnership with the United Way, bringing together like-minded companies and volunteers who seek to make a difference in communities across the Alberta Capital Region, through donation, advocacy and sheer effort. The "Day of Caring" is one way to get involved with the challenge.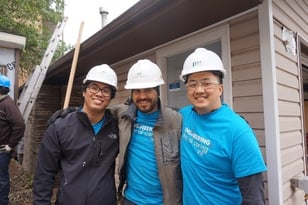 This year, three staff from Morrison Hershfield's Edmonton office took part in the 13th Annual United Way Engineering Challenge Day of Caring. They joined over 50 volunteers from 14 engineering firms for this one remarkable day of working together to complete a community project for YESS (Youth Empowerment & Support Services), an Edmonton-based nonprofit organization.
YESS works collaboratively with youth-supporting partners on homelessness prevention and diversion and appropriate community integration, providing immediate and low-barrier shelter, temporary housing, and individualized wraparound support for youth ages 15-24.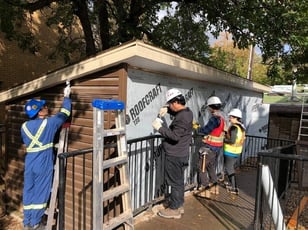 This year's efforts included five main projects at the YESS main building. These included roofing a garage, building an outdoor kitchen and patio, siding a shed, installing indoor flooring in the emergency dorm, and building a gazebo. The volunteers also added rain barrels and built new benches.
Each partner firm participated in funding the project. Sponsors provided equipment and a variety of other incidentals. In all, the support was overwhelming.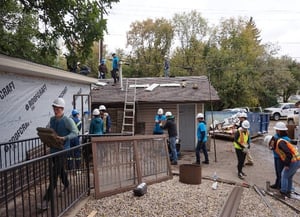 This group of volunteers demonstrated the power of collaboration and teamwork, offering leadership to the community and contributing to the movement to end poverty for our Edmonton youth. In return, they benefited from the opportunity to connect with their community on a profound level and gain a deeper understanding of the barriers they are helping to break down.
Wendy MacKay, Director of Transportation, AB/BC Roads & Highways, summed the day up well, "The Engineering Day of Caring was a great way for MH to join our fellow engineers in Edmonton to support a vulnerable group in our community – homeless youth. By contributing to the purchase of new materials and supplying some manual labor, MH supported improvements to the YESS building, so youth at risk have a warm, safe place to go when there is nowhere else to turn. Despite the very unseasonably cold and slushy day, everyone worked hard, had fun and is looking forward to the next community project."
For more photos from this amazing day, please visit https://www.facebook.com/engineeringchallenge/
#UNIGNORABLE #EngineeringChallengeYEG @myunitedway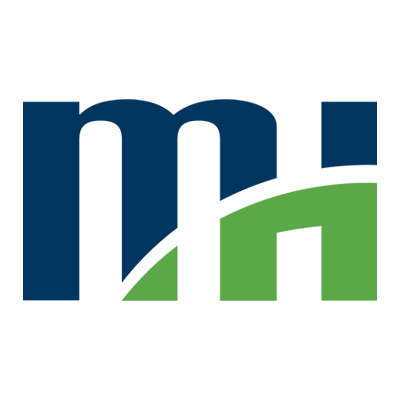 Morrison Hershfield is a market leading, employee-owned engineering firm that has been making a difference for more than 75 years. Our exceptional technical experts, thought leaders and high-performing employees deliver innovative, cost effective and technically sophisticated infrastructure solutions across the globe. Our highly focused approach to the clients and markets we serve ensures that we deliver the value our clients demand.